Images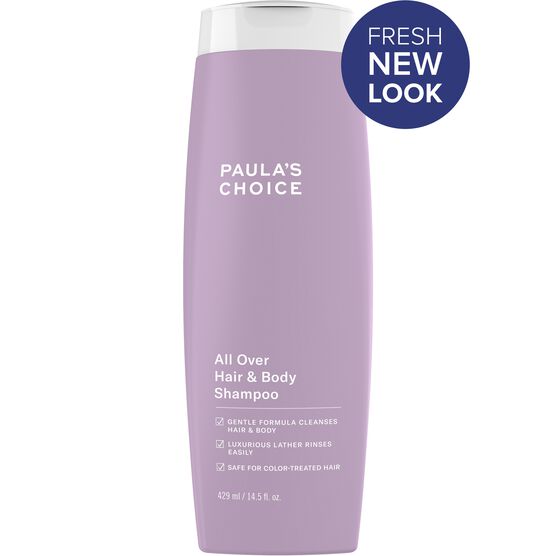 This versatile formula works beautifully to leave hair thoroughly clean and renewed. It also works equally as an all-over body wash. It works for every skin type, hair type, and scalp concern.
ALL OVER Hair & Body Shampoo
Details
https://www.paulaschoice.com/all-over-hair-and-body-shampoo/500-5000.html
This versatile formula works beautifully to leave hair thoroughly clean and renewed. It also works equally as an all-over body wash. It works for every skin type, hair type, and scalp concern.
Concentrated formula
Ideal for color-treated hair
Rinses easily with no build-up or dryness
No residue of any kind left on skin
Fragrance-free formula is perfect for sensitive skin
Skin Types:
All Skin Types
Additional Information
Why is it different?
ALL OVER Hair & Body Shampoo works beautifully as a shampoo and body wash, making it extremely convenient for everyday use. The rich, cushiony concentrated formula can be used on any hair type, cleans hair in one application, and rinses easily with no build-up or even a hint of dryness!
What does it do?
Concentrated panthenol- and soy-powered formula cleanses hair and body in one application, rinsing easily with no build-up or hint of dryness. Its fragrance- and soap-free formula is safe for color-treated hair, sensitive scalp, and dry skin—truly a product the entire family can enjoy for healthier-looking skin and hair.
How to use
As a shampoo: Apply to wet hair and gently massage into scalp. Lather, then rinse thoroughly. Repeat if necessary and follow with Paula's Choice Smooth-Finish Conditioner.
As a body wash: Smooth over wet skin to create a lather, then rinse thoroughly. Optional: use with a wet washcloth for gentle exfoliation.
Show details
Research
Indian Journal of Dermatology, 2008, issue 4, pages 163-166

Indian Journal of Dermatology, May-June 2015, issue 3, pages 248–254

Journal of Cosmetic Science, July-August 2011, issue 4, pages 361-70

International Journal of Trichology, 2015, issue 1, pages 2-15
Ingredients
Product Ingredients
Water (Aqua), Ammonium Laureth Sulfate (cleansing), Sodium Laureth Sulfate (cleansing), Sodium Chloride (stabilizer), Cocamidopropyl Betaine (cleansing), Panthenol (vitamin B5/replenishing), Aloe Barbadensis Leaf Juice Powder (hydration), Hydrolyzed Soy Protein (replenishing), Polyquaternium-10 (hair conditioning/detangling agent), Disodium EDTA (stabilizer), Citric Acid (pH adjuster), Sorbic Acid (preservative).
Ratings & Reviews
Effective (20)
Gentle (19)
Easy to use (15)
Good value (9)
Lightweight (6)
Normal hair (11)
Sensitive skin (8)
Limpness/lifelessness (7)
Color-treated hair (6)
Daily use (5)
Reviewer Profile:
Beauty conscious (17), Survivalist / minimalist (10), Product junkie (6)

Hair Type:
Straight hair (12), Wavy hair (7)

Skin Type:
Combination (5), Oily (3)
Reviewed by 288 customers
Cleans well
Gentle but effective
Non-Greasy
I have seborrheic dermatitis and I need sulfate shampoos to cleanse my scalp. But it's so hard to find a shampoo that doesn't have SLS (the bad kind of sulfate), silicones, oils, or any kind of irritating extract or herb. This was perfect, but I noticed it weighed down my hair. I knew immediately it was the polyquartenum-10, as my hair usually reacts poorly to it. Polyquats are positively charged polymers that attach to hair to make it easier to detangle. Unfortunately, my ultra fine hair gets weighed down with this ingredient. I'm so sad because otherwise this would be the perfect shampoo!
Skin Type:
Combination
Age:
30-44
Have used the shampoo and conditioner for years
I would like a better designed bottle with a better opener . It's slippers when wet and soapy and especially hard to hold when full . The plastic top has broken off more than once. Anyone else had this problem?
Have had good luck with this shampoo cleaning well and not being drying. I'd love to see a better bottle (with spout on the bottom maybe), or how about a refill size.
Lightweight
Non-Greasy
Softens Skin
OVER THE YEARS , I HAVE WRITTEN SEVERAL GOOD REVIEWS OF THIS PRODUCT. BUT AS TIME GOES ON AND I'M GETTING DRIER AND DRIER, I MUST TRUTHFULLY SAY THIS BODY SHAMPOO IS JUST WAY TOO DRYING FOR MY 62 YEAR OLD SKIN. IT'S GOES ON SILKY SMOOTH, AND THANK GOD DOESN'T HAVE THE STINKY FRAGRANCE THAT JUST ABOUT EVERY OTHER BODYWASH HAS. BUT I REALLY, REALLY, REALLY WISH THEY WOULD PUT SOME MOISTURIZERS IN THERE. IF I WAS YOUNG AND HAD OILY SKIN, THIS BODYWASH WOULD BE PERFECT. BUT I DEFINITELY WOULD NOT RECOMMEND THIS BODYWASH FOR OLDER SKIN. THERE SHOULD BE A VARIETY OF BODYWASHED. PAULA, HELP I'M DRYING OUT.
Service and delivery comments:
EXCELLENT AS ALWAYS
Skin Type:
Combination
Age:
60+
I love this shampoo and have used it for years. I do transfer it into a better bottle to eliminate morning stress. The bottle is difficult to open, difficult to close and topples over easily. But no shampoo and or body wash has ever worked better for me.
I buy tons of this as my whole family uses it as a body wash. It's the only product I've found that truly has no fragrance. It doesn't compete with other smells like deodorant or conditioner. My daughter and I use it also as a shampoo as we have curly hair and mostly follow the "Curly Girl Method". The ingredients are cleansing enough to get our scalp clean and gentle enough to not dry out our hair more, which is super important for curls and for my dyed hair. The only downside is the container. I wish it wasn't so hard to open and close. Not a huge deal when it's upright (we leave the lid down, but not closed). But when we've used 3/4 of the product, we like to turn it upside down so it comes out quicker, and you need to fully close it so it doesn't leak out everywhere, and then when you force it open it can explode everywhere. I sometimes put it in a better container, but that's a pain. Even so, it's still my family's favorite body wash/shampoo.
Skin Type:
Combination
Age:
45-59
This has been my daily shampoo & body wash for years. It's one of the few that doesn't leave my scalp itchy. The formula is just right to clean without drying. And it's SO convenient to be able to use the same gentle formula as both shampoo & body wash.

But the bottle! Please, please put it back into a basic round bottle with the standard push-down dispenser. (I now transfer the product into a regular bottle myself.) The current bottle is hard to use is almost every way: hard to open, shut, control the amount, get the last bits out.

One note about this perfectly gentle shampoo: If you have a lot of styling product in your hair you'll need to shampoo twice or use a stronger shampoo like Free & Clear.
Skin Type:
Combination
Age:
45-59
The shampoo formula is very good. I love that it is non-irritating and mild. However, the container is not good. The flip top is rounded and so you can't stand it upside down. The bottle is thin-walled and this makes retrieving shampoo from the bottle hard to handle. Poor bottle design.
Service and delivery comments:
Very good service and delivery.
Daily Use
Redness/ Blotchiness
Sensitive Skin
I love this shampoo! It leaves my hair shiny and full, but the best part is that using this product helped clear up my back acne. I discovered this on accident, when I realized that I only get back acne when I don't use this shampoo. Now it's the only shampoo I use.
Easy To Use
Effective
Gentle
Good Value
ONLY 4 STARS, BAD PACKAGING
Color-treated Hair
Dry/Damaged Hair
Frizziness/Flyaways
Limpness/Lifelessness
Normal Hair
Comments about Hair & Body Shampoo - 14.5 oz:
Please use larger container with pump dispenser!!!
Love PC products, used for over twenty years. As a loyal customer, I believe your sales would be even higher if you would take my advice. Present product won't self-stand, falls over. CAP will break off very easily!! HATE CAP! Selling more product in bulk with a pump would not hurt your bottom line........please, Please do consider, me and many others would not mind paying more. Rememer,we are all getting older (even though we don't look it thanks to PC). Thank you!
Service and delivery comments:
Five star service and delivery, absolutely terrific!