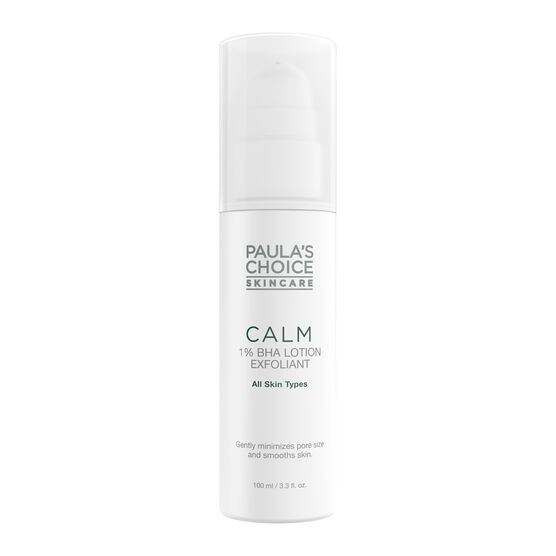 A completely gentle, non-abrasive, leave-on exfoliant that sheds built-up layers of dead skin to reveal the hidden radiant skin beneath. Perfect for someone with sensitive skin who wants to visibly diminish pore size and the appearance of wrinkles and ease redness.
CALM Redness Relief 1% BHA Lotion Exfoliant
https://www.paulaschoice.com/calm-redness-relief-1pct-bha-lotion-exfoliant/9100-9100.html
A completely gentle, non-abrasive, leave-on exfoliant that sheds built-up layers of dead skin to reveal the hidden radiant skin beneath. Perfect for someone with sensitive skin who wants to visibly diminish pore size and the appearance of wrinkles and ease redness.
Salicylic acid (BHA) provides gentle exfoliation
Reveals glowing, hydrated skin
Lightweight lotion is perfect for sensitive skin
Use twice daily after cleansing & toning skin
Skin Types:
All Skin Types
Concerns:
Skin Redness, Sensitive Skin, Blackheads
Why is it different?
CALM Redness Relief 1% BHA Lotion Exfoliant is a leave-on, sheer lightweight lotion with a texture that works to soothe redness and smooth away dry skin with skin-plumping hydration. It also diminishes the appearance of wrinkles and lessens the size of pores.
This exfoliant has an optimal pH range of 3.2–3.8
What does it do?
Gently exfoliates skin's surface as well as inside the pores to enhance skin renewal, while hydrating and soothing ingredients promote visibly calm, even-toned skin. Skin-soothing plant extracts ease extra-sensitive, red skin for a more unified, healthier-looking appearance. Helps unclog and refine the look of enlarged pores and diminishes the appearance of wrinkles. Gentle enough even for those with skin prone to rosacea.
How to use
Apply once or twice daily after cleansing and toning. Apply a dime-sized amount over the entire face, including the eye (avoid the lower lash line and eyelids). Do not rinse. For daytime, follow with a broad-spectrum sunscreen rated SPF 30 or greater.
Show details
Research
Journal of European Academy of Dermatology and Venerology, September 2016, issue 9, pages 1480-1490

General Physiology and Biophysics, September 2013, issue 3, pages 347-59

Evidence Based Complementary Alternative Medicine, 2013, volume 2013, article 827248

Journal of Clinical, Cosmetic and Investigational Dermatology, 2015, volume 8, pages 455-461

Archives of Dermatology, August 2000, issue 8, pages 989-94
Ingredients
Product Ingredients
Water (Aqua), Butylene Glycol, Cetyl Alcohol, Cyclopentasiloxane, Dimethicone, Salicylic Acid, Avena Sativa (Oat) Bran Extract, Allantoin, Camellia Sinensis (Green Tea) Leaf Extract, Glycyrrhiza Glabra (Licorice) Root Extract, Epilobium Angustifolium Flower/Leaf/Stem Extract, Lauric Acid, Glycerin, Polysorbate 20, Sorbitan Stearate, Magnesium Aluminum Silicate, Ammonium Acryloyldimethyltaurate/VP Copolymer, PEG-40 Stearate, Xanthan Gum, Hexylene Glycol, Sodium Hydroxide, Ethylhexylglycerin, Disodium EDTA, Phenoxyethanol, Caprylyl Glycol
Ratings & Reviews
Gentle exfoliation and decrease in redness! Love this product!
ALB
PA
Could see improvement after first use!
I have a lot of redness particularly on my jawline along with bumpy textured skin in the same area. I wanted to try an exfoliatant to even my skin texture but needed something gentle enough for my red skin. This stuff delivered! My skin texture improved immediately and was much softer and smoother!
Kaitlyn
North Carolina
I have sensitive skin and thankfully one that is not prone to black heads and I do not have large pores, but an exfoliant is a must have in a skin care program. This one fits my needs the best and I will be staying with it until the Resist line comes out with.a 1% strength.
Tiff
Virginia
My skin loves this stuff! I've never liked the feeling of applying BHA, but this formulation feels amazing on the skin! I saw results after the first use. This is a must have in my routine and is definitely an underrated product!
Jenn
San Antonio, TX
I tried using others AHAs, such as skin perfecting gel (gave me little bumps that would fade off once discontinuing) and skin perfecting lotion (too sticky and it took forever to sink in skin). This one is the best. It dries very quickly and I can tell the difference in my skin the days I don't use it. It makes skin look smoother w/ an even tone. I have mild rosacea w/ normal skin.
Luiza
Brazil
Wow -- this is what I needed to use all along!
After a few days of using this, along with the CALM repairing serum, my fragile 60-year-old skin (I'm a redhead) has improved so much -- I'm impressed and very grateful! Full disclosure: I am new to PC's wonderful products, and started out using the BHA 2% and the AHA 8% on alternate nights. At first, they worked for me, but then I developed some irritation -- I should have "gone easy" on these products at first -- and then had to back off. Not wanting to give up, I purchased this BHA formula and noticed major improvement right away -- and the improvement has continued as I use it throughout the week, day and night, with no irritating effects. My skin looks fresher, clearer, and less red -- and I can't wait to see what happens after I've been using this even longer. Another plus: This CALM BHA 1% comes in a pump dispenser, which I like using A LOT better than than the BHA 2% that comes in a squeeze bottle and requires application with a cotton pad. Tip: I didn't want to waste the stronger BHA and AHA products I purchased from PC earlier, so I am now using them alternately on my chest area -- which really needs help with sun damage and blotches. I've been able to tolerate these products much better using them this way. I suspect I might be able to go back to the stronger exfoliates on my face after continued use with the CALM BHA 1% and I've adjusted to BHA. In any event, I wish I had tried this CALM formula sooner. I am learning! Paula's formulas are so much better than the other stuff out there that I tried without success. Thank you so much for these wonderful products!
Cynthia
Midwest
Love how light weight this feels on my face!
It goes on very smoothly! You can put other products on over it and it doesn't pile! I hope this always stays in stock, love it!!
Deb
NC
This is an excellent BHA lotion. It doesn't cause any skin irritation on my sensitive skin and it has nearly eliminated blackheads, breakouts and rough patches. I use it once per day. Keeps my skin super smooth. It's the best skincare product I've ever used!
AMM
South Hadley, Massachusetts
I love this new formula. The old one broke me out, made my skin drier, irritated. So far this is gentle and soothing, non irritating. And seems to be doing a fair job in exfoliating. Ty
Weronika
Chicago
I have always had blackheads on my nose, around my nostrils and around my lips. I was always self conscious about this even though I have seen worse. Before this product I had not tried anything but changing my cleansers and moisturizers in hopes of not clogging my pores. I have VERY sensitive skin and some redness on my cheeks. I was skeptical but after using the entire bottle I am a believer! This has changed my skin dramatically! My blackheads are almost 100% gone and my pores look smaller. This is another product from PC that I will never run out of. I am now finishing up the last little bit of this bottle and already have the BHA 2% Lotion in my cabinet ready to go. I use this AM and PM, I just love it! It will change your skin!
Lins
VA