Images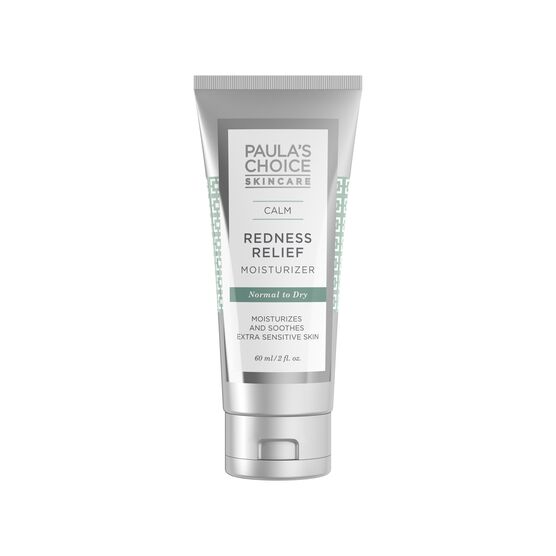 An age-defying moisturizer formulated for soothing skin relief and drenching hydration. Gentle nourishment for visible plumping, radiance, and diminished appearance of wrinkles.
CALM Redness Relief Moisturizer for Normal to Dry Skin
Details
https://www.paulaschoice.com/calm-redness-relief-moisturizer-for-normal-to-dry-skin/9140-9140.html
An age-defying moisturizer formulated for soothing skin relief and drenching hydration. Gentle nourishment for visible plumping, radiance, and diminished appearance of wrinkles.
Nourishing plant oils and antioxidants soothe skin
Enriches skin to ease redness & sensitivity
Silky, soothing cream leaves a radiant finish
Use as the last step in your PM skincare routine
Skin Types:
Extra Sensitive Skin
Additional Information
Why is it different?
CALM Redness Relief Moisturizer Normal to Dry Skin contains specially-selected soothing plant extracts and skin-replenishing ingredients known to visibly soothe sensitive skin and red areas. It is a luxuriously enriching moisturizer that takes super-gentle care of dry, redness-prone skin to fight signs of aging. You will wake up to healthier-looking, ultimately smoother skin and a refined luminosity.
What does it do?
Provides soothing relief for dry, reddened skin. Its custom mix of gentle plant oils, antioxidants, smoothing emollients, and skin-replenishing ingredients leaves a dewy, radiant finish. Dry skin is smoothed, luxuriously softened, and bolstered with what it needs to look younger and hydrated. Gentle enough even for skin prone to rosacea.
How to use
Ideal for softening and smoothing the face, neck and eye area. At night, use as the last step in your skincare routine. For daytime, follow with a broad-spectrum sunscreen rated SPF 30 or greater.
Show details
Research
Indian Journal of Dermatology, March-April 2012, issue 2, pages 142-145

Indian Journal of Dermatology, May-June 2016, issue 1—3, pages 279-287

International Journal of Cosmetic Science, February 2000, issue 1, pages 21-52

International Journal of Toxicology, 2001, issue supplemental 1, pages S21-45

Indian Dermatology Online Journal, April-June 2013, issue 2, pages 143-146

Journal of the American Academy of Dermatology, March 1992, issue 3, part 2, pages 387-396

Dermato-Endocrinology, July 2012, issue 3, pages 253-258

Dermatologic Therapy, September-October 2007, issue 5, pages 314-321
Ingredients
Product Ingredients
Water (Aqua), Ethylhexyl Stearate (emollient/texture-enhancing), Simmondsia Chinensis Seed Oil (jojoba oil/non-fragrant emollient plant oil), Butylene Glycol (hydration), Glycerin (hydration/skin replenishing), Petrolatum (emollient), Cetearyl Alcohol (texture-enhancing), Dipentaerythrityl Hexacaprylate/Hexacaprate, Tridecyl Trimellitate (texture-enhancing), Phenyl Trimethicone (hydration), Sodium Hyaluronate (hydration/skin replenishing), Ceramide NP (hydration/skin replenishing), Cholesterol (skin replenishing), Tocopherol (vitamin E/antioxidant), Squalane (emollient), Magnesium Ascorbyl Phosphate (vitamin C/antioxidant), Dimethicone (hydration), Polysorbate 60 (texture-enhancing), Hydrolyzed Jojoba Protein (hydration), Hydrolyzed Wheat Protein (emollient/hydration), Avena Sativa Kernel Extract (oat extract/skin-soothing), Hydrogenated Lecithin (skin replenishing), Whey Protein (hydration), Tridecyl Stearate (texture-enhancing), Neopentyl Glycol Dicaprylate/Dicaprate (texture-enhancing), Myristyl Myristate (texture-enhancing), Linoleic Acid (skin replenishing), Linolenic Acid (skin replenishing), Decarboxy Carnosine HCI (skin-renewing), Hydroxyethyl Acrylate/Sodium Acryloyldimethyl Taurate Copolymer, Acrylates/C10-30 Alkyl Acrylates Crosspolymer (texture-enhancing/hydration), Cetearyl Glucoside (texture-enhancing), Cetyl Alcohol (texture-enhancing), Polyglyceryl-3 Beeswax (texture-enhancing), Aminomethyl Propanol (pH-adjustor), Disodium EDTA (stabilizer), Phenoxyethanol (preservative), Benzoic Acid (preservative), Chlorphenesin (preservative), Sorbic Acid (preservative).
Ratings & Reviews
My new go-to moisturizer.
My new go-to moisturizer this winter.
laura
Saratoga Springs, NY
This stuff is so stinky! and as soon as I put it on it burns my skin so bad and actually CAUSES redness! disappointed :( I am a HUGE Paula's Choice fan but this is sadly a no for me! :(
Jess
Ohio
Definitely don't recommend to those of you who have dry, sensitive skin. This product has a bad smell, it's heavy and kind of oily and I didn't notice a difference. Again, It might just be my skin sensitivity but it even says non-irritating, no smell. So bad advertising.
Emily
Michigan
I love Calm Redness Relief Moisturizer for normal to dry skin. I have normal to slightly dry (mostly in winter) skin with mild rosacea and it's the absolute best moisturizer for me. I've been using it daily for 2 months now and it moisturizes really well without making my skin greasy. It makes my skin even-toned and luminous. It absorbs well even on the hottest summer days. A little of it goes a long way. I use it both morning and night and my skin has been transformed. I highly recommend it. I tried other moisturizers without SPF from PC and I like this one the most.
Ally
Seattle, WA
This product was good in theory but in reality it never really sank into the skin so instead it just sat on the surface as a greasy, uncomfortable mess, which after 3 uses caused an epic breakout of acne covering my entire chin and lower cheek area. I also noticed a very slight irritation right after application, just that my cheeks got flushed again instead of soothing and calming my dry sensitive skin like it claims to do. Honestly I would not have a problem with this moisturizer (and would not have returned it) had it not broke me out so badly but unfortunately it did. Although I do love all the other products in this line.
Lexi
Hutchinson, KS
I get oily throughout the day but I also have dry areas on my face that can be patchy when applying makeup. I wanted to try the Calm Moisturizer for dry skin to see if this formula would be better than the formula meant for oily skin (I have tried the moisturizer for oily skin and prefer that). I found that for me this does not sink into skin as I would like, my skin feels stiff and dry which I then apply more moisturizer but never truly get a moisturized feel and turns into annoying and irritating all day. When I apply it also does not go on super smooth so I started adding a bit of water to the moisturizer or make sure my face is wet so it goes on easier but it just feels like I have a thin layer of moisturizer and I then have to go back in with more. It is a moisturizer so it does soothe my skin when applied but does not moisturize well for me.
Learner of Skincare
Minnesota
I love this. I have used it for an entire year now and have no plans to switch to anything else. It is all physical yet not drying like other similar products. It works perfectly under my makeup and keeps me sunburn and suntan free. It also doesn't irritate my extremely sensitive eyes. I haven't had any acne or irritation either. I have no complaints. :)
aljowa
Michigan
Yes, I will purchase this product again
I like the wonderful properties of this product and the simplicity of use for daytime protection.
Tennis lady
Northern California
I'm relatively new to PC products. I won't buy this moisturizer again. Too greasy, it causes me acne, and really doesn't sit well under foundation at all.
Natalie
Calgary
Lovely moisturizer for sensitive skin
I've been using this for a few weeks. I really love the way it performs. It's a somewhat thicker yet spreadable cream lotion, that is very very moisture rich yet not heavy. If you have a normal skin type or dry skin type, this moisturizer should sink in beautifully. May not be ideal for oiler skin, although you could use on cheeks and skip the nose. When I use this moisturizer I notice that my skins redness actually is diminished, and I didn't really expect that. I want to try the rest of PC moisturizers but I highly recommend this one and will most likely repurchase in the future.
Emily
Seattle