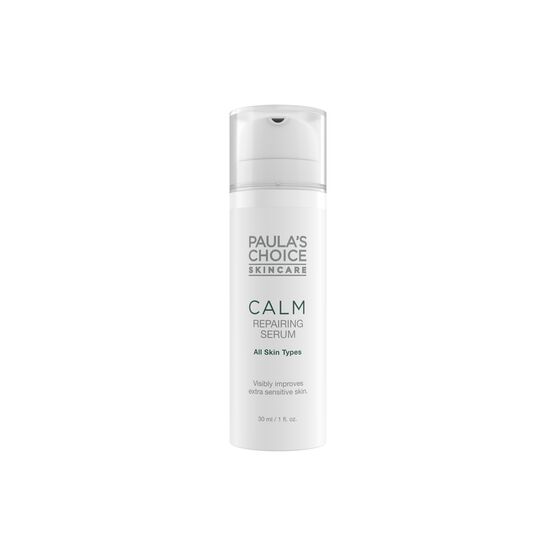 This antioxidant-enriched, silky-soft serum soothes and calms the appearance of redness with a lightweight yet hydrating anti-aging formula.
Introducing a fresh, new look. Same great product and price.
CALM Redness Relief Repairing Serum
https://www.paulaschoice.com/calm-redness-relief-repairing-serum/370-3702.html
This antioxidant-enriched, silky-soft serum soothes and calms the appearance of redness with a lightweight yet hydrating anti-aging formula.
Smooths fine lines and wrinkles
Hydrating complex moisturizes and eases redness
Lightweight but concentrated anti-aging formulation
Use twice daily after cleansing, toning & exfoliating
Skin Types:
All Skin Types
Concerns:
Skin Redness, Sensitive Skin, Wrinkles
Why is it different?
CALM Redness Relief Repairing Serum blends skin-replenishing and potent anti-aging ingredients along with antioxidant-enriched plant extracts that research has shown to be among the most soothing for temperamental skin. It leaves skin superbly soft, hydrated, and calmed, allowing skin to renew and rejuvenate.
What does it do?
Immediately soothes sensitive skin and calms redness with gentle but potent antioxidant plant extracts, skin-replenishing ingredients, and the most effective combination of hydrating and skin-calming essentials. Nourishing for all skin types and gentle enough even for skin prone to rosacea.
How to use
Smooth a few drops onto face, neck and eye area before moisturizing (or use alone). For optimal results, use AM and PM. For daytime, follow with a broad-spectrum sunscreen rated SPF 30 or greater.
Show details
Research
Phytotherapy Research, February 2014, issue 2, pages 159-66

American Journal of Clinical Dermatology, 2003, issue 2, pages 107-29

Indian Journal of Dermatology, May-June 2016, issue 1, 3 pages 279-287

Journal of Drugs in Dermatology, September 2014, issue 9, pages 1021-5

General Physiology and Biophysics, September 2013, issue 3, pages 347-59

International Journal of Cosmetic Science, February 2000, issue 1, pages 21-52

Journal of Drugs in Dermatology, September 2014, issue 9, pages 1021-5

Evidence Based Complementary Alternative Medicine, 2013, volume 2013, article 827248

Dermato-Endocrinology, July 2012, issue 3, pages 253-8

Marine Drugs, 2004, issue 2, pages 73-82

Biofactors, 1999, issue 2-4, pages 371-8
Ingredients
Product Ingredients
Water, Glycerin (skin replenishing), Hyaluronic Acid (hydration/skin replenishing), Beta-Glucan (skin-soothing/antioxidant), Sea Whip Extract (skin-soothing), Sodium Hyaluronate (hydration/skin replenishing), Ceramide NP (hydration/skin replenishing), Ceramide AP (hydration/skin replenishing), Ceramide EOP (hydration/skin replenishing), Cholesterol (skin replenishing), Glycyrrhiza Glabra Root Extract (licorice extract/skin-soothing), Epilobium Angustifolium Flower/Leaf/Stem Extract (willow herb/skin-soothing), Phytosphingosine (skin-renewing), Sodium Cocoyl Amino Acids (skin replenishing), Chrysanthemum Parthenium Flower Extract (feverfew extracts/antioxidant/skin-soothing), Glycine Soja Seed Extract (soybean extract/skin-soothing), Ubiquinone (antioxidant), Sodium Lauroyl Lactylate (texture-enhancing), Caprylic/Capric Triglyceride (skin replenishing/emollient), Magnesium Aspartate (emollient), Potassium Aspartate (emollient), Sarcosine (emollient), Xanthan Gum (texture-enhancing), Carbomer (texture-enhancing), Polysorbate 20 (texture-enhancing), PEG/PPG-14/4 Dimethicone (texture-enhancing), Disodium EDTA (stabilizer), Ethylhexylglycerin (preservative), Phenoxyethanol (preservative).
Ratings & Reviews
Very lightweight. Decreased redness / sensitivity noted after several uses. Would buy again!
ALB
PA
Let me just say I love this product!!! The very first time I put it on my face felt soothed & it was softer the next day. LOVE it! Not enough moisture to wear alone in the winter (ie. I need another layer under my sunscreen) but it may do the trick when its summer. I use 2 pumps 2x a day and wish the bottle was bigger. Highly recommend if you have sensitive, red or reactive skin.
Dee
Victoria, BC Canada
Please don't ever stop making this. It is literally the only serum my hyper sensitive, acne prone skin w rosacea can tolerate (I've sent so my money on products that irritate my skin). Love this stuff.
Jordan
Phoenix
Love Calm serum for my rosacea!
I have moderate rosacea so redness is a challenge for me. The Calm serum works wonders for calming my redness and helps me tolerate BHAs and other serums I'm trying, though I really think PC and the team have figured out how to formulate these serums / boosters to give minimal irritation to the skin. One thing I have found is that with redness it's very important to pay close attention to the temperature of bath / shower water (lukewarm is best); the times when my face is most red is when I've had a warmer-than-usual shower (and here comes winter!) though I apply this serum afterward and it helps so much. I wish these kinds of skincare products and advice had been available in my younger years (esp. SPF); these days it's possible to get started with great skincare early on!
Shelly
Louisiana
Really helps calm down my sensitive irritated skin and helped me tolerate other powerful skin beneficial ingredients. Can't remember when I had breakout last time. My skin is glowing. Thanks Paula's choice support team for introducing me to this 😀😘
Maw
San jose
Super practical - use anywhere!
On my 3rd bottle of this no frills effective serum. Upper lip angry after bleaching? Eyebrow irritation after plucking? Nose red after driving around in the sun? Weird little rash on my arm? Chest redness from a new perfume? Face irritation after going overboard with a new mask or exfoliator? BAM, hit it with this, definitely works. I also use it as an all-over serum when my face just has general redness. It causes no issues with grease or shine with my oily/combo skin. I've read some complaints about stinging upon application, but it's not the serum causing irritation in my experience. If my skin is already angry I will feel a little tingle and the area will flush when I apply, but this is temporary and the skin is definitely improved by the serum once it sinks in and does its work. Great stuff.
Jan
Columbus, OH
This product is ligthweight, and it does what it supposed too, it calms your skin and makes it either noticibly less red, or completely eliminates the redness. I mix this in with my moisturizer, then in the weekends, after i mixx the too, i out it again this time on its own in my red areas like my cheeks and nose for extra calming.
Kalvin sta.romana
Romeoville,Illinois.
I had ultherapy done last month and stopped using my strong retin a/vitamin c temporarily. This stuff works great on my irritated/stressed/extremely sensitive skin. It does not burn at all while I was unable to tolerated other products. It has anti-inflammatory properties and helps to recover my face in just a few days. I also noticed a brightening effect from the licorice and soy extract. Will continue to use it and always have it on hand for emergency.
MelodyZ
Charlotte NC
Love it, works great with my sensitive, oily skin
I use this at night, after using the BHA liquid, and follow it with a moisturizer. Its very light, absorbs quickly, very soothing. When my skin is irritated, this calms it down. If I'm using harsh products or overusing something, this increases tolerance. My problem is, Why isn't this incorporated into the calm moisturizers? The Calm moisturizer for oily skin needs a boost, and the ingredients in this serum ARE that boost. It should be one product. And I don't see WHY this new and improved moisturizer can't be $29-$35. It's a fair price. Paula's Choice in my mind is a brand with products that work at fair prices, which is why I think those two products should be combined, and that price range kept. If not the prices should be reduced. Just my two cents.
Liza
Puerto Rico
Purchasing the full size now
I have super sensitive skin that often gets irritated from my prescription retin-A which triggers these tiny bumps and redness. I used a sample of this serum last night after noticing that my face was especially irritated and when I woke up this morning the redness was gone and my skin looks amazing. Ordering the full size now!!
AshP
Raleigh NC