ACNE STOPS.



CLEAR SKIN
STARTS HERE.
You can have a clear, flawless complexion. With just three simple steps, our precise formulas go deep into pores to eliminate acne-causing bacteria, dirt and oil, while also decreasing swelling and redness.
The results are CLEAR:
+ 88% of users reported less severe acne
+ 96% of users saw smaller pores
SIMPLE STEPS.
REAL RESULTS.
CLEARER SKIN.
CLEANSE
+ Removes excess oil, dead skin cells and makeup
+ Cleans the slate so the rest of your routine can work better
EXFOLIATE
+ Instantly unclogs pores + reduces blackheads, bumps and breakouts
+ Preps skin for treatment so it can penetrate deeper
TREAT
+ Instantly fights acne-causing bacteria
+ Gentle enough to not irritate or dry out already inflamed areas
$13 | 2-WEEK RISK-FREE TRIAL KIT
with FREE SHIPPING

STEP 1 CLEANSE
4 | 1 oz.
Dissolves pore-clogging impurities
Cleans without making skin feel tight or dry
Gel texture refreshes & calms skin
STEP 2 EXFOLIATE

8 | 1 oz.
2% BHA Salicylic Acid unclogs pores without irritation
Stops acne & reduces blackheads
Potent formula for fast results
STEP 3 TREAT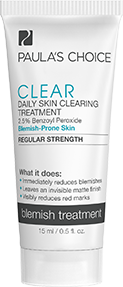 6 | 0.5 oz.
2.5% Benzoyl Peroxide fights pimples on contact
Disrupts the causes of acne to prevent future breakouts
Lightweight formula won't irritate
RADICALLY REAL
SUCCESS STORIES
I can't thank you enough for taking care of me and changing my life! I have a new found confidence and get compliments daily about the improvements on my skin.

Kerbi

A fantastic and gentle product for my sensitive skin. I no longer get deep acne & my blackheads are virtually gone.

Emily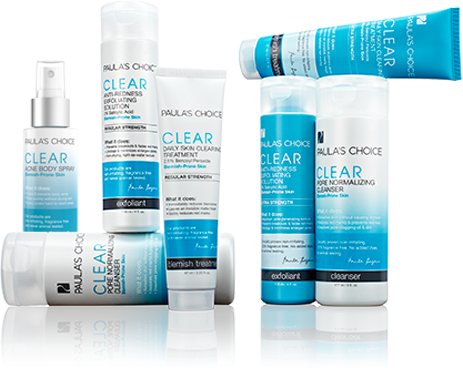 FINALLY,
SOLUTIONS
TAILORED FOR
YOUR SKIN
Unlike other anti-acne routines, we offer different systems: Regular for mild to moderate breakouts and Extra Strength for stubborn to severe acne. We even have special formulas for body breakouts. Choose what's right for your skin's unique needs—because no two breakouts are exactly alike.