Images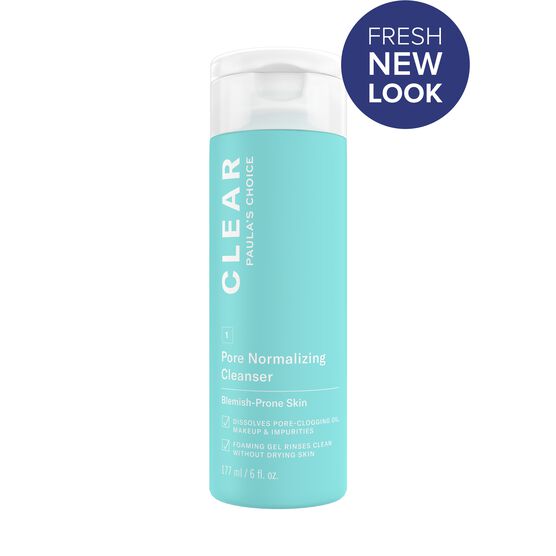 *You love this product so much that we just can't keep it in stock! But don't worry, more is on the way. If you need products to keep up your routine, try our SKIN BALANCING Oil-Reducing Cleanser.
CLEAR Pore Normalizing Cleanser
Details
https://www.paulaschoice.com/clear-pore-normalizing-cleanser/600-6002.html
This gentle, acne-fighting cleanser removes excess oil, dead skin and makeup without drying skin or causing redness.
Dissolves pore-clogging impurities
Cleans without irritation
Gel texture refreshes & calms skin
Use as the first step in your AM/PM skincare routine
Skin Types:
All Skin Types
Concerns:
Blackheads, Acne Breakouts
Additional Information
Why is it different?
CLEAR Pore Normalizing Cleanser isn't like other acne cleansers; it is completely non-irritating and won't cause dryness or flaking. This cleansing gel actually has a silky feel that works quickly to remove excess oil and debris that can clog pores and lead to breakouts.
What does it do?
Clears and prevents acne on the face and body. It gently removes dirt and excess oil while fighting acne breakouts with salicylic acid. Skin will feel refreshed and comfortably clean.
How to use
Wet face and apply a small amount of cleanser to your face and eye area with vigorous, yet gentle, circular motions. Rinse well. To remove heavy makeup, repeat or use with a clean, wet washcloth.
Show details
Research
International Journal of Cosmetic Science, 2000 Feb, issue 1, pages 21-52
Journal of Cosmetic Science, July-August 2011, issue 4, pages 361-70
Indian Journal of Dermatology, May-June 2015, issue 3, pages 248–254
Skin Research and Technology, February 2001, issue 1, pages 49–55
Ingredients
Product Ingredients
Active Ingredient: Salicylic Acid 0.5%
Inactive Ingredients: Water (Aqua), Sodium Lauroyl Sarcosinate, Acrylates/Steareth-20 Methacrylate Copolymer, Glycerin, PEG-200 Hydrogenated Glyceryl Palmate, Sodium Laureth Sulfate, Arginine, Butylene Glycol, PEG-7 Glyceryl Cocoate, Panthenol, Disodium EDTA, Citric Acid, PEG-60 Hydrogenated Castor Oil, Sodium Citrate, Phenoxyethanol, Caprylyl Glycol, Chlorphenesin..
Ratings & Reviews
Leaves clean feel (38)
Gentle (34)
Not greasy (26)
Improves skin texture (21)
Balances skin (20)
Irritates skin (11)
Dries out skin (8)
Doesn't work (5)
Doesn't remove makeup (4)
Daily use (48)
Acne-prone skin (36)
Sensitive skin (29)
Combination skin (22)
Oily skin (21)
Reviewer Profile:
Budget shopper (20), Beauty conscious (19), Brand buyer (16), Survivalist / minimalist (6)

Skin Type:
Combination (19), Oily (5), Normal (3)
Reviewed by 320 customers
Comments about CLEAR Pore Normalizing Cleanser:
I love this cleanser it's amazing, I use once a day as a nighttime cleanser because I find sometimes it's too drying and the bha in the cleanser cancels out my retinol at night. it's very effective at keeping the skin clear. Just be mindful that if your skin gets too dry, it's a breading ground for acne and bacteria. There has to be a healthy balance! The only reason I took off one star is because of the sodium laurel sulfate(foaming agent), the people behind Paula's choice are very smart and know their stuff...so why put that ingredient in the cleanser? I may have to put this down until that ingredient is gone :,,(
Blemish-prone skin
Daily Use
Comments about CLEAR Pore Normalizing Cleanser:
The best cleanser for oily skin! It's the only cleanser that has actually helped with my breakouts. I'll never stop using it!
Even if you have oily skin I'd recommend using it only once a day, otherwise it might dry your skin out.
Only con: Will not thoroughly remove your makeup, I have to use micellar water beforehand.
Skin Type:
Combination
Age:
18-29
Comments about CLEAR Pore Normalizing Cleanser:
It's a a great standard face wash for acne prone skin!
Skin Type:
Combination
Age:
18-29
Comments about CLEAR Pore Normalizing Cleanser:
I love this stuff! Made a huge difference with my acne and suprisingly didn't irritate my sensitive skin. I use it twice a day, and only need a little drop for my whole face.
Daily Use
Enlarged Pores
Redness/ Blotchiness
Comments about CLEAR Pore Normalizing Cleanser:
Of all the cleansers I've bought recently, this is the only one my teen daughter likes! It makes no sense to buy something she won't use. She only wants to use this one, so I'll keep buying it!
Daily Use
Enlarged Pores
Uneven Skin Tone
Comments about CLEAR Pore Normalizing Cleanser:
I used all the drug store acne products and the expensive stuff from the doctor. Th only thing that worked was the antibiotics but you can't stay on those. I am quick to try things, but also quick to move on if I don't think it works. I started with the kit and then now just maintain on the cleanser, have been acne free for two years and if I get one its very small, and goes away quick, nothing like the nasty cyst types from before that were so painful.
Service and delivery comments:
I really like the auto order, one less thing to think about
Comments about CLEAR Pore Normalizing Cleanser:
I got this as a travel size, to see if I liked it... and I can honestly say that I will never buy anything else again. I have used Cetaphil Daily Cleanser for YEARS and this just blew it out of the water! My face was SO clean and NOT dry. When I used the Cetaphil, I would get residual make up on my cotton ball with Paula's toner, but there was NOTHING after I used this cleanser. Just TRY it!
Acne
Clogged Pores
Daily Use
Comments about CLEAR Pore Normalizing Cleanser:
I use this facewash along with the other CLEAR products and love them all. Since using these products, I have definitely noticed a change in my skin- less cystic acne and noticeably reduced clogged pores! I also use the BHA 2% Skin Brightening Liquid and the CLEAR SPF 30+ moisturizer. I love them all.
Service and delivery comments:
Delivery was prompt, arrived within a week. Products arrived in perfect condition.
Skin Type:
Combination
Age:
30-44
Comments about CLEAR Pore Normalizing Cleanser:
I use to use this product and loved it.........so much as I ordered 3 of them........when I got the new shipment, I was told they had taken out the ingredient TRICLOSAN (which is not good for Thyroid problems)....I thought this was a great idea on their part....since I have that problem...but they added two new ingredients....and there for my skin reacted severely...as in burnt my skin.......I am so disappointed with this....as I really liked this product......It is the first time I have ever sent anything back, I love Paula's products.....but no longer can use this cleanser.
Service and delivery comments:
Sending the parcel back was easy...but they have not received it as yet.
Skin Type:
Normal
Age:
45-59
Balances Skin
Gentle
Improves Skin Texture
Leaves Clean Feel
Moisturizing
Acne-Prone Skin
Daily Use
Oily Skin
Sensitive Skin
Comments about CLEAR Acne Cleanser - 6 oz:
My first order from PC. Clean well without drying my skin. I have super sensitive skin, it's very gentle. I also got the CLEAR Regular Strength Anti-Redness Exfoliating Solution With 2% Salicylic Acid. I can tell my pores are getting a little smaller after 1 week. Love it!! I just placed my second order to try other good PC products that would work great on my skin.