Images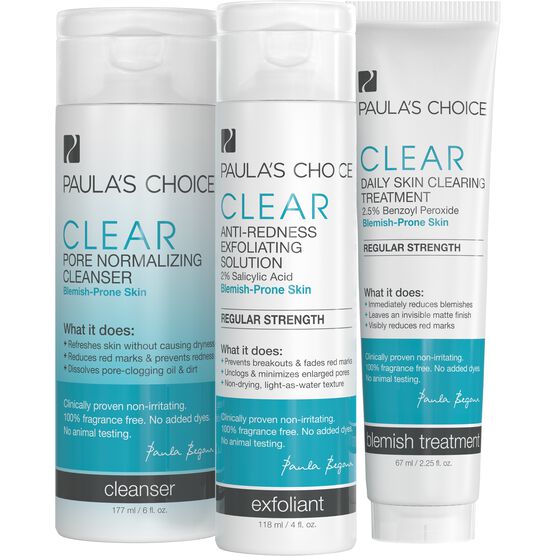 *You love this product so much that we just can't keep it in stock! But don't worry, more is on the way. If you need products to keep up your routine right away, try our CLEAR Extra Strength Kit.
CLEAR Regular Strength Kit
Details
https://www.paulaschoice.com/clear-regular-strength-kit/470-4704.html
This 3-step routine quickly combats and controls acne and breakouts, unclogs pores and calms redness without causing dryness or flaking.
For mild to moderate acne
Fast acting formulas fight acne-causing bacteria
Contains no harsh ingredients
*This item is not eligible for additional discounts.
Skin Types:
All Skin Types
Concerns:
Enlarged Pores, Acne Breakouts
Additional Information
Why is it different?
This 3-step routine quickly gets mild to moderate acne under control—without causing dryness, flaking, redness, or discomfort. The lightweight formulas are gentle yet tough on breakouts, working together to provide pore-clearing and hydrating benefits. Use daily to successfully maintain your results. This kit includes:
CLEAR Pore Normalizing Cleanser (177ml/6 fl. oz.)
CLEAR Regular Strength Anti-Redness Exfoliating Solution with 2% Salicylic Acid (118ml/4 fl. oz.)
CLEAR Regular Strength Daily Skin Clearing Treatment with 2.5% Benzoyl Peroxide (67 ml/2.25 fl. oz.)
What does it do?
All the products in this kit work to lessen excess oil, unclog and shrink enlarged pores, dislodge blackheads, and help control mild to moderate acne breakouts—and keep them under control. Unlike many acne products, our CLEAR collection works without causing dryness or redness, or exposing skin to harsh ingredients.
How to use
Step 1 Cleanser: AM/PM
Step 2 Exfoliant: AM and/or PM
Step 3 Treatment: AM and/or PM
Show details
Research
Our products are well-researched and backed by our guarantee to deliver effective results. You can view research studies for each product in this set on its individual product page.
Ingredients
Product Ingredients
Our products contain effective levels of ingredients guaranteed to be good for your skin. You can view ingredients for each product in this set on its individual product page.
Ratings & Reviews
Lightweight (54)
Non-greasy (50)
Softens skin (34)
Soothes skin (25)
Moisturizes (13)
Irritates skin (19)
Not effective (12)
Drys skin (3)
Daily use (59)
Enlarged pores (28)
Sensitive skin (24)
Redness/ blotchiness (18)
Uneven skin tone (15)
Reviewer Profile:
Beauty conscious (38), Survivalist / minimalist (20), Beauty expert (3)

Skin Type:
Combination (38), Oily (16), Normal (6)
Reviewed by 292 customers
Irritates Skin
Not Effective
This kit was recommended to me. I read the reviews and was so excited to get it in. I used the products a total of only THREE times (Sunday, Monday, and Tuesday morning) by Tuesday night my face HURT. It was on fire. I took my makeup off and saw that I had huge red patches on my cheeks. Those patches ended up itching and peeling like crazy along with still burning. It is one week later and my skin is still unbelievably dry (and I normally have very oily skin). I have never had sensitive skin, so I don't think that's the issue. I would never recommend this product to anyone.
I have tried so many products - recently R&F - and Paula's Choice has changed my life for a whole lot less $$. My skin looks amazing - my sister stares at my face and says she just can't get over the difference! I love it - so easy, such results! I just love it!!! (I'm not sure which moisturizer I should be using but at this point I'm just so happy with my skin right now.)
Daily Use
Enlarged Pores
Redness/ Blotchiness
I am so happy to finally have found something that works for me! I've wasted years and hundreds of dollars on other products, but am happy to report that I saw results after just the first week using this kit (I'm now one month in). My skin does not usually dry out easily so I went ahead and used the kit as directed, morning and night. I have combination skin - oily t-zone, but lately have been getting deep hormonal scattered breakouts on my cheeks and hairline. I am also admittedly not great at leaving said breakouts alone, so I end up with some scarring and redness. I am half filipino, half caucasian so I have a slightly darker skin tone skin and get horrible dark marks from acne scars, and this has already helped to even them out. My skin is also incredibly smooth, and though I think it will be a while longer before I see some shrinking of pores, the tiny blackheads around my nose are already completely gone, and I have yet to get another deep hormonal breakout like I had been getting. I am overall very happy and really recommend this product. If you are on the fence, I suggest going for it!
Service and delivery comments:
Delivery was prompt and products arrived packaged well.
Skin Type:
Combination
Age:
18-29
Lightweight
Moisturizes
Non-Greasy
Daily Use
Uneven Skin Tone
I've always had mild acne but within the last year, it has turned into moderate/severe. It took a huge toll on my self- esteem. After trying anything I could get my hands on, I finally broke down and bought this kit, thinking what could go wrong? Well I'm so happy I did because it has totally transformed my skin! I love all three products in this kit, from the silky and gentle cleanser to the exfoliating solution to the non-drying bp. Now I did go through a small purging phase. I was like omg but then I remembered that the exfoliating solution will turn skin cells over faster so that is completely normal. I purgured for maybe a week but it was totally worth it. I still get the occasional pimple but nothing serious. I have regained my confidence and wish I would have bought this product sooner. Please if you are reading this, give his product a chance, you will not be disappointed. PS I made sure I used this twice a day for a month before I wrote this review.
Service and delivery comments:
Very fast shipping!
Skin Type:
Combination
Age:
18-29
Ive been using this kit religiously for 5 months and my acne is completely gone. All of my congestion and pimples are cleared and i could not be happier with the results. I get so many compliments on my skin because of this kit. I added a moisturizer for AM and PM and SPF 50 as well in the AM to protect my skin from the sun because the BHA and BP will make your skin very sun sensitive so be aware of this when purchasing. You have to be consistent with this and get through the purging stage when your skin gets worse before it gets better. For me this lasted about 3 weeks then cleared from there. I use the BHA and BP only at night time as it was too much for my skin during the day as well. Absolutely thrilled with my results it saved my self-esteem. Would recommend to everyone!
Lightweight
Non-Greasy
Very Effective
Acne treatment and prevention
Daily Use
I've waited for a while to write a review on this product line, because I really wanted to see how it worked long term. After 10 months of very consistent use, I am happy to report that this line has absolutely changed my skin for the better. I have struggled with adult acne for years. After a particularly bad round of hormonal acne, I went in search of a new system to treat my angry, irritated, zit-covered face. I had used Proactiv for years with mostly positive results, but I wanted something that would exfoliate a bit more gently. After tons of research, I ended up trying PC. For the first week or so, my skin was quite dry as it adjusted to the products. I combated this with the Resist Hydrator which I use nightly (I will add here that even though I have a fair complexion, I have never struggled with skin sensitivity). I also alternated use of the Exfoliating Solution and the Skin Clearing Treatment, doing one in the morning and one at night until my skin fully adjusted. With regards to the acne, I began to see improvement in 2 months and full clearing within 6 months. So this is my advice to anyone reading this review - BE PATIENT. Your skin WILL go through a purge process. PC has got it right - the only way to stop acne is to use an exfoliant (in this case the salicylic acid) and something to kill bacteria (in this case the benzoyl peroxide). But it takes a while for all of the junk that has built up deep within your skin to come forth and be gone for good. You must be patient and you must be consistent. I hope you will love this product as much as I do!
Service and delivery comments:
No problems with service or delivery.
Skin Type:
Combination
Age:
30-44
I use this kit every morning to wash my face and in the evening to take the day off. My skin has dramatically improved in just a few months of using it. I can't thank Paula's Choice enough for their wonderful products. I have become much more confident in my skin because of them.
Skin Type:
Combination
Age:
18-29
Daily Use
Enlarged Pores
Sensitive Skin
I normally use a benzoyl peroxide treatment as a part of my skincare routine (Proactiv, Clinique). After running out, I decided to try Paula's Choice since I'm a fan of their other products, mostly because they're fragrance-free. Using this regularly (day and night for the exfoliant and treatment), I've already gone through the exfoliant first. I started out applying the exfoliant on the hands and rubbing it onto my face, but it "lathered" a bit, so I use cotton pads instead. It's much more lightweight and quickly absorbs compared to the other popular PC exfoliant, which goes on greasier. The BP treatment is also lightweight. Other reviewers complained about this kit causing dryness, but I always apply a lotion/cream/moisturizer after the treatment and never struggled with any dryness. For me, the stars of this kit are the exfoliant and treatment. The cleanser is fine, nothing special imo. Using these products, my skin feels so smooth! I just had to leave a positive review and hope you can get the same results too!
Service and delivery comments:
Prompt delivery!
Skin Type:
Combination
Age:
30-44
Lightweight
Moisturizes
Non-Greasy
Softens Skin
Soothes Skin
Daily Use
Enlarged Pores
Sensitive Skin
Uneven Skin Tone
this cleared up my daughter's acne when nothing else worked. she was 18 when we started and now she's 19. she says "Paula changed her life".
Skin Type:
Combination
Age:
18-29
I've been using this kit for about 5 months now. I've had acne prone skin since puberty and have tried every thing under the sun: medications, high end MLM sets, home remedies - you name it. I suffered mostly from hormonal acne, blackheads and clogged pores.

I have finally found something that works and I do not need to wear makeup to hide my skin. The first month my skin broke out a lot and I was concerned that I might be allergic to one of the ingredients. I told myself I would give it 2 more weeks and if no change it would go in the garbage like everything else I had tried. I was discouraged because I was breaking out in places that I was usually clear. After the initial breakout (don't forget salicyic acid turns over cells faster to it is just quickening the process of pimples you would have had anyway down the road!), my skin cleared up immediately. Since then I have had the odd blemish, but NO break outs. My skin looks so healthy and smooth. I am beyond impressed with Paula's choice products and now consider myself a life long customer.

(Besides the clear line I have gradually introduced the 4% retexuring bha, resist antioxidant serum, and niacinamide booster.)
Service and delivery comments:
Delivery always impresses me with its speed!