Images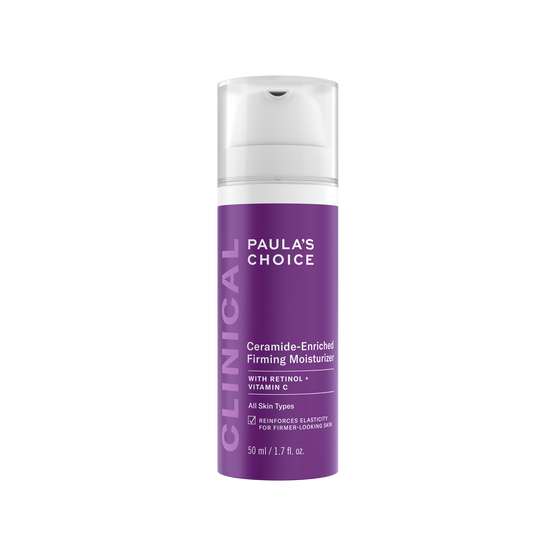 Fortify skin's protective barrier with concentrated ceramides to visibly smooth wrinkles, renew a firmer feel, and enhance moisture balance for plumper skin.
CLINICAL Ceramide-Enriched Firming Moisturizer
Details
https://www.paulaschoice.com/clinical-ceramide-enriched-firming-moisturizer/212-2120.html
You love this product so much that we just can't keep it in stock! But don't worry, more is on the way. If you need to restock your routine, we recommend Omega+ Complex Serum or Moisture Renewal Oil Booster for your daily dose of ceramides.
Skin Types:
All Skin Types
Concerns:
Anti-Aging, Wrinkles
Additional Information
Why is it different?
An unprecedented combination of ceramides, plus retinol and vitamin C, in one moisturizer for dramatically younger-looking skin. This is the first formulation with our CollagenSupport Complex, which acts as a binding agent to keep the outer layers of skin hydrated and resilient.
What does it do?
As we age, the ceramides that keep skin healthy and strong decline. This formula steps in to give skin back five essential ceramides to restore firmer-looking, supple-feeling skin. Retinol and vitamin C further help skin to regain its vitality, while soothing emollients soften the appearance of wrinkles.
How to use
At night, use as the last step in your skincare routine. For daytime, follow with a broad-spectrum sunscreen rated SPF 30 or greater.
Show details
Research
Nutrients, August 2017, ePublication

International Journal of Cosmetic Science, May 2017, pages 824-834

Journal of Cosmetic Dermatology, December 2016, pages 549-558

Skin Pharmacology and Physiology, June 2015, pages 1,501-1,509

Journal of Investigative Dermatology, May-June 2016, issue 1—3, pages 279-287

Journal of the American Academy of Dermatology, May 2014, pages AB26; and November 2012, pages 1,103–1,024

Journal of Ethnopharmacology, November 2013, pages 395-420

Indian Dermatology Online Journal, April-June 2013 pages 143-146

Dermatologic Therapy, May 2007, pages 606–612
Clinical Interventions in Aging, 2006, pages 327–348
Ingredients
Product Ingredients
Water (Aqua), Sodium Ascorbyl Phosphate (vitamin C/antioxidant), Cetyl Alcohol (texture enhancer, Ascorbyl Glucoside (vitamin C/antioxidant), Neopentyl Glycol Diheptanoate (texture enhancer), Potassium Cetyl Phosphate (emulsifier), Glyceryl Stearate (emollient), PEG-100 Stearate (texture enhancer), Glycerin (skin-replenishing), PEG-12 Glyceryl Dimyristate (hydration), Bis-Diglyceryl Polyacyladipate-2 (emollient), Dimethicone (emollient), Glyceryl Ascorbate, Tetrahexyldecyl Ascorbate (vitamin C/antioxidants), Retinol (vitamin A/skin-restoring), Ceramide NP, Ceramide NS, Ceramide AP, Ceramide EOP, Ceramide EOS, Cholesterol, Caprooyl Phytosphingosine, Caprooyl Sphingosine (skin-replenishing), Squalane (emollient), Punica Granatum Fruit Extract (pomegranate/antioxidant), Pongamia Glabra Seed Oil (non-fragrant plant oil/antioxidant), Glycyrrhiza Glabra (Licorice) Root Extract (skin-soothing), Vitis Vinifera (Grape) Seed Extract (antioxidant), Tocopheryl Acetate (vitamin E/antioxidant), Carnosine (skin-restoring), Panthenol (hydration), Sodium PCA (skin-replenishing), Butylene Glycol (hydration), Sodium Citrate (pH adjuster), Ceteareth-25 (texture enhancer), Polysorbate 20 (emulsifier), Ethylhexyl Stearate (emollient), Sodium Hydroxide (pH adjuster), Trideceth-6 (emulsifier), Propyl Gallate (antioxidant),Ammonium Acryloyldimethyltaurate/VP Copolymer, Sodium Polyacrylate (film-forming agents), Behenic Acid (texture enhancer), Disodium EDTA (chelating agent), Phenoxyethanol, Caprylyl Glycol, Chlorphenesin (preservatives).
Ratings & Reviews
Moisturizes (34)
Non-greasy (32)
Softens skin (32)
Lightweight (28)
Soothes skin (18)
Daily use (33)
Fine lines/wrinkles (28)
Sensitive skin (21)
Uneven skin tone (15)
Redness/ blotchiness (6)
Reviewer Profile:
Beauty conscious (25), Survivalist / minimalist (8), Beauty expert (7)

Skin Type:
Dry (20), Combination (16), Normal (3)
Moisturizes
Non-Greasy
Softens Skin
Soothes Skin
Daily Use
Fine Lines/Wrinkles
Uneven Skin Tone
I have faithfully been using Paula's Choice products since they were first introduced in the 1990's. Trying every new product and following Paula's advice has kept my skin looking younger, but I've never found a product to ease the look of my deep acne scars or fully remove the brown and red spots. At least my skin didn't get worse to Paula's Choice products were working and I had to be satisfied with that. As usual, when a new product is released, I ordered the Ceramide-Enriched Firming Moisturizer and began to use it. Last week I happened to glance in the bathroom mirror and thought my face looked pretty good. Wait. How could my skin look like this when I'm not wearing makeup? As I studied my face I realized the Ceramide-Enriched Firming Moisturizer was making a difference! Hooray, and thanks to Paula for a product that works for me!
Fine Lines/Wrinkles
Uneven Skin Tone
OMG! This potion coupled with my anti-aging exercise regimen has me returning to high school! Seriously effective stuff! And I have oily skin to boot and I live in hot humid Florida. I only use this at night and wake up more youthful without being overwhelmingly greasy. Do not delay your purchase of this miracle product.
Lightweight
Moisturizes
Softens Skin
Soothes Skin
Daily Use
Fine Lines/Wrinkles
Sensitive Skin
The first time I used this product I knew it was a winner for me. You require very little of the product to reap the benefits. I can see and feel changes the moment I smooth it on my skin. It felt soothed and nourished. I have normal to dry skin with t-zone oilyness. I adore it. My skin looks beautiful, plump and firm.
Lightweight
Moisturizes
Non-Greasy
Softens Skin
Daily Use
Fine Lines/Wrinkles
I started using PC products late last year, and while I noticed some improvement, nothing blew me away until this came along. My skin has not felt this smooth since I don't know when. If I could choose just one PC product for the rest of my life, this would be it.
Skin Type:
Combination
Age:
45-59
Moisturizes
Non-Greasy
Softens Skin
Daily Use
Uneven Skin Tone
I am 36, live in Seattle with combination skin. (Dry patches around chin/mouth. Daily oil in nose/t-zone.) I have been using Paula's Choice products for 10 years, mostly because I have rosacea that made me never want to be seen without makeup. I have tried numerous PC products and this one is one of my favorites. Great for winter and nighttime moisturizer. I wear it every night on my face and daily under my resist sunscreen moisturizer but usu only on the dry areas. (When I started using this product I had a retinol induced tiny dry patch under one of my eyes and this lotion made that area sting a little, so I don't use it right under my eye since that area is sensitive.) Other than that the rest of my face FEELS AMAZING. I touch my face in the AM when I wake up after using it and my skin feels 12 years old. If your skin is super sensitive start using slowly or lightly and not around your eyes. The benefits of the ceramides and antioxidants are worth trying this product out. I used to use the Resist Vitamin C (dark blue) serum at night on my face and I think this lotion has more visible benefits. I now use the Resist Vitamin C serum just under my eyes since that doesn't cause any irritation for me and that area on my face seems to be a little sensitive. Again I don't think this product caused any irritation for me, I had an irritated area and this product seemed a little strong to apply to that area.
Service and delivery comments:
In 10 years I have never had a service or delivery issue with PC.
Skin Type:
Combination
Age:
30-44
With all the hype about this product, I was really expecting good results in reducing wrinkles and making my skin more taut. I am very disappointed in that it does not do anything like that. Instead, after using it at bedtime, the next morning my face seems dry and my wrinkles are more pronounced. When using it during the day before applying my foundation, hours later my face appears dry and drawn. I will not be using nor buying this product again.
Lightweight
Moisturizes
Non-Greasy
Smells Great
Softens Skin
Soothes Skin
Daily Use
Fine Lines/Wrinkles
Redness/ Blotchiness
Sensitive Skin
Uneven Skin Tone
So far I am loving this new Moisturizer! This has helped to soften and calm down my overly dry winter skin. This winter has been a long one so far, with being outdoors a lot with the cold snow and freezing temperature makes it even more difficult to keep my face moisturized and preventing flaky, dry, and red skin. It isn't easy to find fragrance-free skincare products that contain ceramides, let alone several ceramides. Many "ceramide" creams I've tried only include one or sometimes up to two different ceramides, but the Paula's Choice Clinical Ceramide Enriched Firming Moisturizer contains five ceramides as well as several other beneficial ingredients. I've found it to be a well rounded product that has really helped me get through the winter. I also use an Illuminage At Home Face Laser which dries my skin out. Immediately after the laser treatments I apply this and it instantly helps calm my skin down and moisturize it.
Well worth every dollar when you consider that this contains ceramides, vitamin c, Retinol, and more!
I experienced a dry, burning sensation followed by tiny bumps to this within a day. I have dry skin that is on more on the sensitive side, but not super sensitive. My skin has tolerated ceramides in the past very well, so I believe it is the retinol and the other actives in this that caused this reaction. I agree with another reviewer, Kate, that it would be wonderful if we could be offered a moisturizer/cream loaded with ceramides and leave the more active and harsher ingredients out. I would buy that in a heartbeat and I'm certain my skin would love it. Paula's Choice customer service and return policy on this was wonderful though.
Daily Use
Fine Lines/Wrinkles
Sensitive Skin
I use this every night before bed...I NEVER use moisturizer...due to every kind I've ever used has left me with acne...Paula's Choice is the only choice for me! Some of their moisturizer have broken me out in the past but not this one! It does the job and soothes my skin...a little goes a LONG way...I just use one little pump and that's enough! I live in a harsh, dry, cold climate in the winter.
Skin Type:
Combination
Age:
30-44
Lightweight
Moisturizes
Non-Greasy
Softens Skin
Daily Use
Fine Lines/Wrinkles
I was already very happy with my Paula's Choice skincare routine but I gave this a try anyway based on the ceramides and antioxidants. It's seriously amazing and I noticed results very quickly. I add a pump of it to another Paula's Choice moisturizer morning and night and it is definitely plumping and smoothing out fine lines and wrinkles. It's not at all greasy and it just leaves my skin feeling great. I even got carded a few weeks after I started using this — I'm 40 and let's just say it's been awhile since that's happened :) Love this product and I'm so happy I tried it.
Skin Type:
Combination
Age:
30-44