TAKE A FIRM STANCE
(WITH YOUR SKIN)
Fortify skin's protective barrier with concentrated ceramides to visibly smooth wrinkles, renew a firmer feel, and enhance moisture balance for plumper skin.
BRING BACK
YOUR SKIN'S
BOUNCE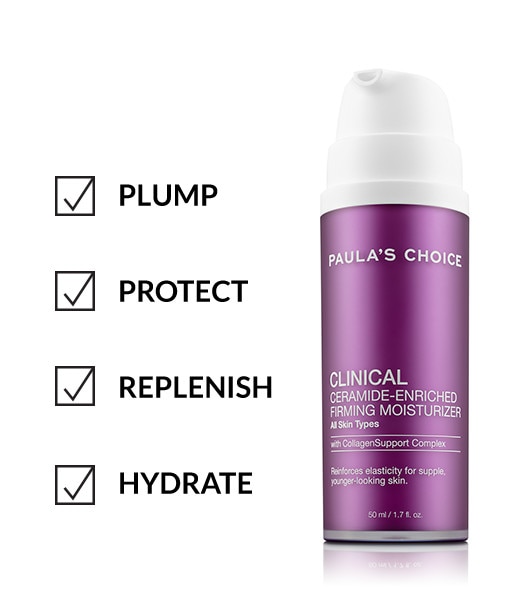 NEW
| CLINICAL
CERAMIDE-ENRICHED
FIRMING MOISTURIZER
As we age, skin-strengthening ceramides decline. This formula replenishes the five essential ceramides you need for firmer-looking skin, while retinol and vitamin C further restore vitality. Soothing emollients round out the formula to soften the appearance of wrinkles.
SEE WHAT PEOPLE
HAVE TO SAY

By Pat | Vancouver, Canada
YOU GET WHAT YOU PAY FOR
I absolutely love this moisturizer and it is going to be a new staple for me. I woke up with calmer, smoother, softer skin. A week into it and my under-eye area looks better. I know my skin likes ceramides and I think they are very important for anyone with sensitive skin because they fortify the barrier. Thank you, Paula.

By Paula Fan | Eagle, Idaho
AMAZING!!
I have been using Paula's products for almost 20 years, and this is, hands down, my favorite moisturizer of all time. I have combination skin and this is just the perfect texture for me. I feel like my skin is really responding fast to this product. I swear I noticed a difference in my skin after the first use. Highly recommend!!

By Idunham00 | Lewes, DE
THIS STUFF IS INCREDIBLE!!
I've been using your products for years and I love a lot of them but this is the first one that I've really felt made a huge difference within hours (if not minutes) of putting it on. My boyfriend said I looked "weirdly younger," lol. If it has this effect on everybody I feel like the advertising is a big understatement! Thanks so much!

By JW | Phoenix, AZ
PHENOMENAL
I was amazed how quickly I felt this did something for me. Especially around the eye area and above my brows. This made an improvement in a week. I've had zero kickback or the usual side effects I get when retinol is too strong. That coupled with what appears to be high percentages of various forms of vitamin C make this a win-win for me. This is the perfect eye cream with some great results. Kudos.