Everything You Wanted to Know About Microblading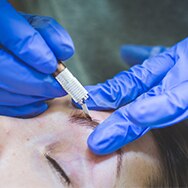 Thanks to a service known as microblading, you can have the bold brows or perfect arches of your dreams … albeit for a pretty penny. Here's exactly what you need to know about the pros and cons of this semi-permanent, tattoo-like brow treatment.
What is Microblading?
Microblading involves using a precise, blade-like instrument to make tiny incisions while depositing pigment into the skin. Different from brow tattoos or "permanent makeup," microblading doesn't go as deep and allows for more natural-looking, hair-like strokes.
Who is Microblading Best for?
Microblading can make sparse brows look fuller, make light brows look darker, and give brows a better overall shape. Whether your brows are suffering from years of over-tweezing or you just want to wake up with perfect-looking brows every morning, microblading might just be the answer.
Does Microblading Hurt?
Some microblading techniques involve application of numbing creams, while other techniques forgo the numbing on the first pass. (Ask your microblading professional about this ahead of time.) Needless to say, if there's no numbing, there will be a degree of pain as the microblading tool cuts into skin (similar to the pain involved in getting a tattoo).
The healing time for microblading varies: Flaking is not uncommon, and some people experience scabbing—the severity of these side effects often depends on how closely you follow the aftercare instructions. Aftercare typically involves keeping brows dry for at least the first 24 hours and then applying an oil or balm daily. Within 10 days, the majority of the healing should be well under way.
How Much Does Microblading Cost?
Depending on where you live and the expertise of the person providing the service, microblading prices typically range from $350 to $800.
Given the price, it may be tempting to look for a less expensive deal (hellooo, Groupon), but it's imperative to perform due diligence—check online reviews, seek out their microblading before and after pictures, and ask around for recommendations. Even if your microblader is certified (which they absolutely should be), there's a major learning curve when it comes to perfecting one's technique—the more experience the microblader has, the better.
How Long Does It Last?
Results from microbladed brows can last anywhere from 6 months to 2 years, with a touch-up recommended between 4 to 8 weeks after your initial appointment to fine-tune the results and redeposit color.
You'll notice that the results change throughout the first several weeks. In the early stages, the color will likely be darker than anticipated, and certain strokes of pigment may show up stronger than others. After your touch-up, and once everything has settled in, you should be left with natural-looking, beautifully shaped brows.
Factors to Be Aware of
Anyone can get microblading done, but not everyone should. We highly recommend scheduling an in-person consultation before your appointment so your microblading pro can discuss issues that may affect the results, such as:
Prior permanent brow tattoos.
Aging skin that has lost its elasticity around the eyebrow area.
Scarring that you already have in the brow area.
Certain thyroid medications and blood-thinning medications you take. (Check with your physician before having microblading done.)
It's also important to note that microblading, along with tattoos of all sorts, is not FDA approved or regulated. See the FDA's list of potential risks associated with tattooing and permanent makeup here.
How to Reverse Microblading Gone Wrong
As great as microblading can be, when it's bad, you can be stuck with the results for a long time. If the results are not what you intended, in the early stages, washing your brows frequently and using a gentle AHA (glycolic acid) or BHA (salicylic acid) exfoliant will lessen the pigment's visibility on skin's surface.
Unfortunately, skincare can do only so much in this regard—most likely, you'll need more extreme measures to get your brows back to normal. We highly recommend consulting a dermatologist and an experienced microblading professional (not the one who did a bad job on your brows in the first place) to discuss your options, such as laser treatments or manual removal (which is as painful as it sounds).

About the Experts
Paula Begoun is the best-selling author of 20 books about skincare and makeup. She is known worldwide as The Cosmetics Cop and creator of Paula's Choice Skincare. Paula's expertise has led to hundreds of appearances on national and international radio, print, and television including:



The Paula's Choice Research Team is dedicated to busting beauty myths and providing expert advice that solves your skincare frustrations so you can have the best skin of your life!