How to Choose and Apply Bronzer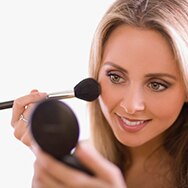 A good bronzer accentuates and enlivens skin with a healthy-looking glow. It doesn't have to cost a lot of money (no one can tell the price of a bronzer once it's on your skin), nor does it require too much skill to apply. But, there are some simple fundamentals that make a big difference in getting naturally bronzed results.
With that in mind, we're sharing our pro guide to finding the perfect bronzer for your skin type and skin tone, and providing application pointers for a flawless faux glow.
The Best Bronzer for Your Skin Type
The selection process starts with choosing the best bronzer for your skin type, and that takes a bit of experimenting to see which you prefer. Generally speaking, if you have:
Normal, oily, or combination skin, powder bronzers are a safe bet.
Normal to dry skin, you may want to consider cream or fluid bronzers.
Very oily or breakout-prone skin, powders, gels, or liquid bronzers are ideal. Stay away from the creamy options and overly sparkly options—a shiny finish just looks more oily.
The majority of bronzers are the pressed-powder variety because they are so easy to use. If you have dry skin, these powder bronzers can work for you. The secret is prepping skin beforehand. During the day, use a moisturizer that offers sun protection (like our SKIN RECOVERY Daily Moisturizing Lotion SPF 30), and choose a bronzing powder with a more silky feel.
If you have oily to combination skin, you still must prep your skin, but use an extremely fluid, mattifying sunscreen during the day. (Try our RESIST Youth-Extending Daily Hydrating Fluid SPF 50). For normal skin, either of these SPF-enhanced moisturizers will work great!
The Best Bronzer for Your Skin Tone
For most people, the trickiest part of picking a shade is selecting one that has an undertone suitable for their skin. Knowing whether your undertone is warm, cool, or neutral is the key to ensuring your bronzer matches your skin and looks as natural as possible. Not sure of your skin's undertone? This article will help!
If your skin has warm or sallow undertones, you're in luck because the majority of golden brown shades will work beautifully. For skin with yellow undertones, try warm peach shades that have a tan to soft brown undertone.
Those whose skin has cool or neutral to beige undertones may have more difficulty finding bronzing options that look natural on their skin, but we'll let you in on a pro secret: There is no significant formulary difference between a bronzing powder and a regular pressed powder. You can "bronze" with a pressed powder that is a couple shades darker than your natural skin tone. And this can work great for everyone.
Pro Application Tips
Building color gradually is the best way to avoid the beginner's mistake of over-applying. Bronzer should give skin a sun-kissed flush, so apply to areas of the face where the light would shine if it were directly above—where your forehead meets your hairline, the bridge of your nose, the tip of your chin, and the apples of cheeks.
For a more defined look, some people find it helpful to imagine the "3" shape while applying bronzer. On both sides of the face, make the "3" shape, starting at the forehead along the hairline, and use your brush to follow along the hollow of the cheek and just under the jawline. Keep it sheer and build as needed.
If you opt for a bronzer with shimmer, be sure to check how it looks in natural, direct lighting. This is especially true if you have oily skin because shimmer makes oily skin look even shinier. Many people prefer a little glimmer in their faux glow, so it's good to test it and see how shiny the finish is before you head out. Too shiny doesn't look as natural, but for a night out, the look can be stunning.
For powder bronzers, use a medium-size fluffy, but firm, brush for the most control. Sweep the brush over the powder and tap off any excess before applying (this is always helpful). Some may find an angled brush works best for applying bronzer, especially to smaller faces.
We recommend a makeup sponge or synthetic-hair foundation brush for applying cream bronzers, but your fingers work, too. Just apply a small amount of product to the sponge and use a stippling effect to bronze one area at a time.
For bronzing gels or liquids, use your fingertips to dot and blend, but do it quickly, as these products dry fast!
Make sure to check out the final look in natural lighting! If the bronzer looks too dark, or was applied too heavily, use a clean powder brush (one with densely packed hair) to pick up and blend out the excess product, rubbing the brush in small circular motions. Double-check to make sure there are no hard edges—if there are, blend them out using a slightly dampened makeup sponge.
About the Experts
Paula Begoun is the best-selling author of 20 books about skincare and makeup. She is known worldwide as The Cosmetics Cop and creator of Paula's Choice Skincare. Paula's expertise has led to hundreds of appearances on national and international radio, print, and television including:



The Paula's Choice Research Team is dedicated to busting beauty myths and providing expert advice that solves your skincare frustrations so you can have the best skin of your life!