7 Fast Fixes for Makeup Mishaps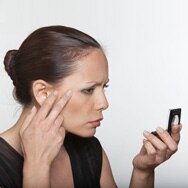 Smudged lipstick, streaky foundation, clumpy eyelashes—we've all been there! Here are fast fixes and preventative solutions to avert the most common makeup mishaps.
Lipstick that Smudges and Bleeds
If you're prone to lipstick smudging or have lines around the mouth that the color easily bleeds into, switch from a traditional creamy formula to using a matte lipstick with a matte lip-liner. This is an excellent way to keep lipstick on longer and minimize feathering (the greasier the lipstick, the more likely it is to bleed).
Alternatively, you can prep lips with a clear primer pencil such as Urban Decay's Ultimate Ozone Multipurpose Primer Pencil (a PC staffer favorite) to help give the lip color better hold or apply a matte concealer over lips for a more adherent base.
Cakey or Poorly Blended Foundation
Ever had this problem: You apply your foundation in bathroom lighting, only to realize it wasn't quite blended all the way or it looks a lot heavier in natural daylight.
Use a slightly damp makeup sponge and stipple it over your face to soften and blend out the excess foundation. Be sure to blend around the jaw and hairline, too. After you've finished blending, apply a light dusting of powder to smooth everything out.
If your technique is tried and true, and you still have problems, the issue is most likely your foundation, the lighting in your bathroom, or you really need to consider a magnifying mirror so you can see all the details of your application.
If the problem is the texture of your foundation, it could be too thick or too thin. If either is the case chances are it won't apply evenly no matter what you do. Make sure your foundation is appropriate for your skin type. See our article Which Type of Foundation is Best for You? for more details.
Clumpy Mascara
Smooth out clumpy mascara by applying a very small amount of water on a clean mascara wand. If it's a waterproof formula, a silicone-based makeup remover works best. Wiggle the brush across the base of the lashes to soften the dried mascara and then roll up to separate the clumps. The key is to use only a teeny-tiny bit so you don't break down the mascara too much and create a smeary mess.
If your mascara is always clumpy, it's time to try a new one.
Concealer that Creases into Lines Around the Eyes
Be sure to prep your eye area with a thin layer of a good moisturizer that isn't too greasy, and apply it sparingly because overdoing it will cause more creasing. Choose a concealer that is smooth, easy to blend, long-wearing, and opaque enough to cover any under-eye darkness. The thinner the texture, the less likely you are to experience creasing.
But what if you're already midway through the workday and notice your concealer has settled into the lines? Use your ring finger to smooth out any concealer that has begun to crease, and if you have any powder with you, set it with an extremely light dusting. For best results, use a small brush or sponge, making sure to blend the powder from where the eye and nose meet, softening out to the temple where any crow's-feet lines may reach; you want to avoid putting excess powder on wrinkles.
Blush Overkill
Accidentally applying too much blush happens to the best of us! Tone it down by using a clean brush and blending a light layer of loose or pressed powder on top.
Another option is using a foundation brush or sponge that has a bit of leftover foundation on it to smooth and sheer your blush out.
Avoid over-applying your blush by using a soft, fluffy brush that grabs the color evenly and builds intensity slowly. Paula's trick is to first put the blush color on the brush and then dab it into her pressed powder before applying.
Overdone Brows
We fully embrace the dramatic brow movement—we just want to help you to do it in a way that flatters your face. Instead of assuming you should choose a brow filler that is a shade darker than your natural brow color, go for a color that either matches it or is slightly lighter. This will give you full-looking, naturally defined brows without the harsh contrast.
Blonde eyebrows are the exception. Try a color that's a shade or two darker to prevent brows from looking washed out or nonexistent.
Another issue is when you realize you filled in your brows a little too heavy-handedly and they end up looking a bit rigid. Use a brow brush or spoolie to comb through the hairs to help soften the look and break up solid the block of color for more realistic-looking, hair-like results.
Eyeliner for Watery Eyes
Do you have the issue of dry eyes causing excessive tearing? Paula's trick for this is to use a truly waterproof eyeliner from M.A.C. called Liquidlast Liner. It is absolutely 100% waterproof. It can chip off a bit but is easily touched up. Paula keeps one in her makeup bag at all times (along with her travel size magnifying mirror).
About the Experts
Paula Begoun is the best-selling author of 20 books about skincare and makeup. She is known worldwide as The Cosmetics Cop and creator of Paula's Choice Skincare. Paula's expertise has led to hundreds of appearances on national and international radio, print, and television including:



The Paula's Choice Research Team is dedicated to busting beauty myths and providing expert advice that solves your skincare frustrations so you can have the best skin of your life!