Simple, Fast Makeup Touch-Ups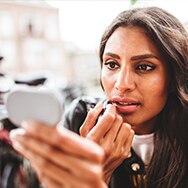 Everything starts out so beautifully in the morning. Softly glowing foundation, perfectly placed blush, eyeshadow and liner neatly applied, lashes lengthened and thickened, and rich, smooth lipstick. Then, depending on your skin type and what you've eaten, everything starts going south right after lunch.
Foundation and concealer slips and fades, blush starts looking heavy, lipstick wears off or accumulates in the corner of your mouth, mascara flakes and smudges, and liner begins to smear. This is especially disappointing when you have plans later in the evening.
Don't fret! The right touch-up techniques can revive your makeup without messing up what you've already got on. This is how the pros do it!
The major way to keep your makeup lasting throughout the day is to avoid touching your face and resting your phone against your cheek. Doing these things means you're inadvertently wiping off your makeup, creating a patchy, mottled mess. Changing this bad habit will give you lasting, beautiful results.
Touching Up Makeup Like a Pro
If you have oily skin, lightly dab away the excess oil with a tissue or oil-blotting papers. Do this before you do anything else.

If you have dry skin you can carefully, and we mean very carefully, dab the tiniest amount of moisturizer over areas that have started looking dry and flaky, especially under the eye area. It can take a bit to absorb but while you're waiting you can touch up your hair.

Remove all of your lipstick so you can start with a clean slate, after you touch up your face makeup. All you need to do is apply a bit of foundation around your mouth to make sure there are no blank areas showing through.

Use your makeup sponge or a foundation brush to smooth out your foundation and blush. Use a gentle buffing motion, making sure to smooth things as you go but not rubbing off all of your makeup.

Apply a little extra concealer under your eyes to brighten and give skin a refreshed look. Just be careful not to overdo, you don't want to have a white swath under your eyes.

If the coverage from your foundation or concealer has worn off over blemishes or other imperfections, reapply over those areas, making sure to avoid your blush. Double check the corners of your nose, where foundation can accumulate.

Dust on a light layer (really light layer) of powder over the face to help set makeup and give skin a flawless finish, especially over the corners of your nose.

Apply more blush if needed or highlighter, but only if needed, and be careful—blush and highlighter grab on more easily over makeup that has been on the face for a while.

If your eyeshadow tends to crease throughout the day, blot the area gently with a tissue or blotting paper and then use a brush to smooth out the color. Apply a powder over the area to even out the shadows and add whatever color is needed to make your eye makeup look balanced.

Touch up your eyeliner with a powder shadow, particularly under the eyes where it may have smeared. Use the corner or side of your makeup sponge to remove any evidence of smeared eyeliner.

Finally, reapply your lip liner and lipstick. Consider using a soft matte or true matte lipstick instead of lip gloss or ultra-creamy lipsticks, which tend wear off quickly or bleed into lines.
Give these tips a try, and you'll be amazed at how easy it is to freshen up your look in mere minutes!
About the Experts
Paula Begoun is the best-selling author of 20 books about skincare and makeup. She is known worldwide as The Cosmetics Cop and creator of Paula's Choice Skincare. Paula's expertise has led to hundreds of appearances on national and international radio, print, and television including:



The Paula's Choice Research Team is dedicated to busting beauty myths and providing expert advice that solves your skincare frustrations so you can have the best skin of your life!