Six Ways to Get Dewy Skin Without Makeup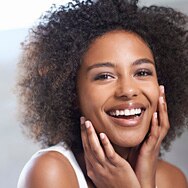 It's not just about moisture. If you're not currently using a well-formulated leave-on exfoliant every day, it's time to begin. Exfoliation is about so much more than sloughing dead skin; the right product will loosen the bonds that hold pore-clogging, dull-looking dead skin to the surface, and deliver a radiant, smooth, hydrated, blemish-free, even-toned complexion. You'll begin to see results as quickly as overnight—and finding the right exfoliant for your skin type and concerns is as easy as taking this short quiz. Another benefit to gentle, speedy exfoliation is that your other skincare products will work more effectively, once the barrier of dead surface skin is removed.
But finding the right moisturizer (with SPF) is crucial. Many people aren't aware that it's daylight, not just direct sunlight, that leaves your skin at risk for sun damage. Unprotected sun exposure is the main cause of redness, irritation, rough skin texture, and uneven skin tone—basically everything except that healthy, dewy glow we all aspire to. We've formulated a Paula's Choice Skincare moisturizer with SPF for every skin type: whether you need to balance oil, reduce shine, increase moisture, or reduce redness. And, if you're turned off by the heavy feel of sunscreens you've tried in the past, one of our weightless formulas is sure to change your mind.
Radiance Renewal Mask delivers dewy skin with minimal effort. This overnight skin-brightening gel is an all-skin-types overnight ticket to luminosity. Its rich, silky formula hydrates, softens, and—with its proprietary brightening complex—leaves your complexion refreshed and perfectly dewy.
RESIST Pure Radiance Skin Brightening Treatment instantly provides a more luminous complexion. This lightweight lotion goes on just before your moisturizer, and is formulated to help brighten dull, lackluster skin. But it's not just a cosmetic: The niacinamide and acetyl glucosamine blend refines surface texture and improves the appearance of uneven skin tone—leaving you with a radiant, but not greasy, look.
RESIST Brightening Essence soothes and revitalizes dull skin. This lightweight fluid contains a multi-brightening complex ideal for all skin types. Its concentrated blend of plant extracts, antioxidants, and skin-soothing ingredients (licorice extract, arbutin, vitamin C, niacinamide, and peptides) gives you lit-from-within, radiant skin. Two forms of hyaluronic acid deliver superior hydration, essential for maintaining fresh, dewy skin.
Moisture Renewal Oil Booster is a game-changer for dry, reddened skin. It's tough to find a facial oil blend that's completely fragrance free—a crucial element for healthy skin. But this oil booster contains nine non-fragrant, gentle, nourishing plant oils. They deliver essential fatty acids and antioxidants, which alleviate dry skin, calm redness, and create a dewy smooth glow.
References for this information:
The American Cancer Society, April 2017, ePublication
Indian Journal of Dermatology, May-June 2016, pages 279–287
Dermatology Research and Practice, February 2015, ePublication
Phytotherapy Research, August 2015, volume 29, issue 8, pages 1117–1122
The Journal of Clinical and Aesthetic Dermatology, March 2014, pages 27–29; and February 2010, pages 22–41
Advances in Dermatology and Allergology, 2014, issue 6, pages 351–355
Journal of Cosmetic and Laser Therapy, December 2014, issue 6, page 271–278
Indian Dermatology Online Journal, April-June 2013, issue 2, pages 143–146
Journal of Cosmetic Science, January 2012, pages 43–54
Clinics in Dermatology, May-June 2012, pages 335–344
Journal of the American Academy of Dermatology, November 2012, pages 1013–1024
Journal of Clinical Oncology, January 2011, pages 257–263
About the Experts
Paula Begoun is the best-selling author of 20 books about skincare and makeup. She is known worldwide as The Cosmetics Cop and creator of Paula's Choice Skincare. Paula's expertise has led to hundreds of appearances on national and international radio, print, and television including:



The Paula's Choice Research Team is dedicated to busting beauty myths and providing expert advice that solves your skincare frustrations so you can have the best skin of your life!