What to Do When You Sleep with Makeup On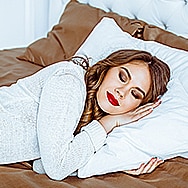 For many reasons, falling asleep with your makeup on is detrimental to skin. Overnight, it can cause bumps and clogged pores, dull skin, puffy eyes, and generally aggravated skin. What a headache.
Despite this, we've all been guilty of sleeping in our makeup at one time or another because, well, tiredness prevails. Thankfully, there are steps you can take to rescue your skin. Here's what you can do to help your skin bounce back the very next day.
What Happens When You Sleep in Lipstick?
It depends on the kind of lipstick, but sleeping with it on could actually turn out to be a blessing in disguise. Generally, it's better to have something on lips overnight to keep them from getting dried out. In particular, if the lipstick is emollient, creamy, or glossy it can form a protective barrier that shields against drying heat, air conditioning, or even just mouth-breathing. Of course, the downside is that you risk getting the lipstick's color all over your pillowcase.
You're better off using a rich balm designed to moisturize lips at night, but in the rare instance that you do accidentally sleep with your lipstick on there's no reason to fret … unless you're wearing an ultra-matte lipstick and lip stain, which tend to dry lips out. In that case, help your delicate pout recover by saturating lips with an ultra-rich balm for the next 24 hours.
What Happens When You Sleep in Eye Makeup?
Sleeping with your eye makeup on causes significant irritation that can lead to red, puffy, itchy eyes from the eyeshadow and mascara flaking and rubbing into your eyes and the delicate skin around your eyes. Not a pretty sight.
When you wake up the next morning, you need to be even more gentle than usual about taking off your eye makeup as your eyes will be extra tender. Opt for a makeup remover or cleansing cloth that is fragrance free and contains soothing agents to calm skin. Follow up with eye drops to soothe your eyes.
What Happens When You Sleep in Foundation/Face Makeup?
When you sleep in makeup, skin looks duller the next day because it couldn't shed/exfoliate properly at night. That can also lead to dull rough skin, clogged pores, and small red bumps!
Use a very gentle scrub or soft washcloth with your gentle cleanser or cleansing oil to completely remove makeup, and follow with the rest of your normal skincare routine. If you wake up with any redness, extra bumps, or imperfections, spot treat them with our high-strength RESIST BHA 9 Treatment—you'll be impressed by the instant improvement.
About the Experts
Paula Begoun is the best-selling author of 20 books about skincare and makeup. She is known worldwide as The Cosmetics Cop and creator of Paula's Choice Skincare. Paula's expertise has led to hundreds of appearances on national and international radio, print, and television including:



The Paula's Choice Research Team is dedicated to busting beauty myths and providing expert advice that solves your skincare frustrations so you can have the best skin of your life!