5 Steps to Make Your Lipstick Last Longer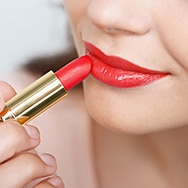 If you're someone who loves a statement-making, perfectly made-up mouth, you've no doubt spent time pondering the eternal problem: How to keep lipstick on all day? You probably won't be surprised to find that you'll need more than the long-lasting, smudge-free lipstick in your bag. Skincare knowledge plus a great makeup technique will create the fail-safe solution you're after.
So, how do you get the smooth, hydrated lips that'll help make lipstick last? With these five time-tested steps, approved by our makeup experts:
Step 1: Lip care basics.
It's a scientific fact that our lips are physiologically unique. The bad part? They're predisposed to dryness. It's common—without some maintenance with the right products—for lips to be the driest area on a person's body. But two simple skincare adjustments will keep your lips in great shape, even during the driest times of year—so your lipstick will wear evenly, and never look flaky.
Avoid unprotected sun exposure every day. Here's why: Sunlight can damage, dry, and age lips regardless of the weather. During the day, cover your lips with an emollient lip balm, lip gloss, or lipstick with SPF 30 or greater. Waxy products that simply coat your lips won't moisturize, nourish, or protect them the same way a product like our fragrance-free LIPSCREEN SPF 50 will. And if you like multi-tasking products, consider our LIP & BODY Treatment Balm, also great for cuticles, elbows, heels, hands, and … well, you get the idea.
Avoid products with drying and/or irritating ingredients. Here's why: You'll be shocked at how many products claim to prevent dry, chapped, or irritated lips (or to plump them), but contain ingredients proven to cause dryness and irritation. Toss anything with menthol, menthoxypropanediol, peppery capsicum, camphor, peppermint, ginger, mint oil, cinnamon, essential oils, and fragrance (natural or synthetic).
Step 2: Skip the abrasive scrub.
A good skincare routine will make exfoliating your lips a non-issue—which is great, given the thinness of the skin on our lips, and the fact that many recommended lip-smoothing techniques (like using a toothbrush or harsh scrub) and non-recommended techniques (picking at peeling skin) can damage your lips.
Step 3: Choose the right lipstick.
Any brand can claim it has a lipstick that stays on, and that their formulas are moisturizing and long-wearing. Just be sure to check the ingredient list, and avoid any product that contains alcohol (SD or denatured) or fragrance—both will dry your lips and damage your skin over time.
Step 4: Color inside the lines.
A good lipliner can keep lipstick from feathering and bleeding outside of lip lines, and—particularly with a deep lip color—can work as a base layer for your lipstick, extending its wear by hours. Choose a shade that matches your lipstick and fill in your lips completely. If you don't wear a bold lipstick color, a nude or clear liner will work just as well.
Step 5: Apply and set your lipstick.
Apply a thin layer of your lipstick, then hold a tissue over your lips as you dust them with loose powder. The tissue will blot excess product and allow just enough powder through to set your color, but not so much that it looks chalky. Repeat the process if you really want to make your lipstick stay, and you know you won't have time for touchups later on.
Learn more about lip balms and treatments.
References for this information:
International Journal of Dermatology, July 2016, pages 386–391
European Journal of Dermatology, May-June 2013, pages 303–307
Aging, March 2012, pages 166–175
Chemical Immunology and Allergy, March 2012, pages 77–80
The Australasian Journal of Dermatology, November 2010, pages 248–253
About the Experts
Paula Begoun is the best-selling author of 20 books about skincare and makeup. She is known worldwide as The Cosmetics Cop and creator of Paula's Choice Skincare. Paula's expertise has led to hundreds of appearances on national and international radio, print, and television including:



The Paula's Choice Research Team is dedicated to busting beauty myths and providing expert advice that solves your skincare frustrations so you can have the best skin of your life!