Do Lip Plumpers Really Work?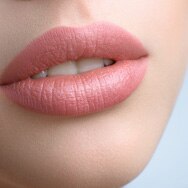 Full lips are an enviable trait. For those who don't have them naturally, yet want a pouty look, there's no shortage of products offering to help. These lip plumpers claim to instantly boost lip volume without the need for cosmetic procedures.
It seems like a quick fix—and certainly less expensive than a procedure, but many of these products present more risks than benefits. As usual, it's all about the ingredients and keeping the cosmetic claims rooted in reality.
What's in Your Lip Plumper?
Here's a surprising fact: Most lip-plumping beauty products do "work" to a certain extent, but the method in which they work isn't doing your lips any favors.
Many popular lip plumpers contain ingredients like capsaicin (which gives chili peppers their heat), menthol or potent menthol derivatives, cinnamon, mint, and ginger oils. If you use a lip product with one or more of these ingredients, you might indeed see fuller lips short-term, but that isn't because your lip's volume is increasing.
Instead, these ingredients cause lips to puff up because they're irritated. All these ingredients are sensitizing, and any numbing, cooling, burning, or tingling sensation you feel means your lips are being irritated. The temporary look is often that of a fuller pout, but the routine irritation can damage the delicate skin on the lips, eventually leading to thinning—the exact opposite of what you want.
Plumping Without Pain
Achieving fuller lips without the potential damage from using lip plumpers is possible with some tried-and-true makeup tips:
Line your lips slightly outside the natural lip line (don't go overboard) with a liner that's close to your natural lip color.

The shade of your lip color impacts the appearance of lip fullness: Very dark shades tend to make lips look smaller, while more neutral or lighter pink and rose-toned colors make them seem larger.

Dab a bit of lip gloss on the center of your bottom lip; the light-reflecting properties of gloss make lips appear fuller.
Taking good care of your lips also helps. Using a luxurious balm loaded with beneficial ingredients can smooth lips and diminish the appearance of lines, leading to a plumper appearance. During the day, use a lip balm containing SPF to protect lips against skin-thinning sun damage.
If you want fuller lips that last longer, there's no question that lip injections from a cosmetic dermatologist are the best way to go. This procedure adds volume and shape to lips, and the results can last up to a year.
Learn more about lip balms and treatments.
References for this information:
Cosmetics, February 2017, ePublication: http://www.mdpi.com/2079-9284/4/1/9/htm
Contact Dermatitis, September 2016, pages 333–344
Journal of the American Academy of Dermatology, May 2009, pages 861–863

About the Experts
Paula Begoun is the best-selling author of 20 books about skincare and makeup. She is known worldwide as The Cosmetics Cop and creator of Paula's Choice Skincare. Paula's expertise has led to hundreds of appearances on national and international radio, print, and television including:



The Paula's Choice Research Team is dedicated to busting beauty myths and providing expert advice that solves your skincare frustrations so you can have the best skin of your life!