Adult Acne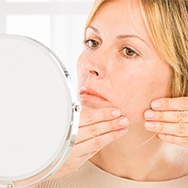 Despite what you might have read, the best acne products for adult acne don't differ whether you're an adult or a teenager. We know that sounds surprising, maybe even shocking, but facts are facts and there's no research suggesting otherwise.
Why some people get acne and to what degree is as much a mystery for adults as it is for teens (there are theories but nothing really 100% conclusive). However, there's no mystery about what you can do at any age to get the problem under control and, for many, practically erase the red, white-headed bumps altogether.
Quick myth-busting: Stress isn't a differentiating factor between adult and teen acne. Teens and adults endure stress (if anything, teens suffer more because they're still learning how to manage it) and in both cases, stress can influence the underlying causes of acne.
How to Control Adult Acne
Regardless of your age, the fundamentals of where to start are exactly the same: Use a gentle cleanser, a product containing 2.5 to 5% benzoyl peroxide, and a leave-on liquid exfoliant containing 2% BHA (salicylic acid). It's that simple. Well, almost that simple. These products must not contain the following ingredients because they'll make acne worse:
Irritants like menthol or eucalyptus
Fragrance of any kind (natural or synthetic)
Coloring agents
Waxy, emollient ingredients—look for products with thin or fluid textures
Additionally, expecting acne products to work overnight is a big mistake many acne sufferers make. While many people will see immediate results, for others it can take at least three to four weeks to see improvement. We also can't stress enough how important it is to use these products consistently because missing just one day can set your skin back.
How Adults Can Manage Breakouts and Signs of Aging
The one thing that differs for adults with acne is the other skincare challenges revolving around their desire to diminish signs of aging and, for many, large pores. You need products for those concerns, too, so it can get tricky because the anti-aging products you use must be carefully selected.
Thankfully, a well formulated liquid BHA is one of the premier anti-aging products you can use. Its skin-smoothing, restorative, brightening, pore-minimizing, and youth-enhancing properties are well established. BHA is a uniquely multi-tasking super hero like no other!
Additionally, for your daily skincare routine these anti-aging products from Paula's Choice Skincare will interrupt environmental assault as well other pro-aging enemies of skin, plus address concerns like uneven skin tone and loss of firmness:
RESIST Advanced Kit for Normal to Oily Skin – everything you need to care for your skin every day, including sunscreen and a 4% BHA retexturing enhancer. Skin perfection from lightweight fluid textures that won't clog pores, make skin feel heavy or greasy, or dry it out.
10% Niacinamide Booster – abundant research has established niacinamide's pore- minimizing and skin-renewing benefits. Bonus: It enhances skin's ability to hold on to youthful hydration.
1% Retinol Booster – the exciting anti-aging, skin-renewing qualities of retinol have been lauded for over 50 years. But what's extra exciting is the research keeps showing retinol is even more remarkable than we ever thought it could be.
For more information on how to incorporate Paula's Choice Skincare products into your personal routine, you can schedule a free one-on-one consultation with one of our Client Services representatives here.
References for this information:
Dermatologic Therapy, February 2017, pages 926–935
International Journal of Molecular Science, January 2017, page 18
Journal of Cosmetic Dermatology, December 2016, pages 330–334 and 350–357
Clinical Cosmetic Investigative Dermatology, August 2015, pages 455–461
Journal of the European Academy of Dermatology and Venereology, June 2015, pages 14–19 and March 2010, pages 281–292
Inflammation and Allergy Drug Targets, June 2014, pages 177–190
Journal of Women's Health, February 2012, pages 223–230
American Journal of Clinical Dermatology, December 2011, pages 407–420
Cutis, July 2009, pages 48–55
About the Experts
Paula Begoun is the best-selling author of 20 books about skincare and makeup. She is known worldwide as The Cosmetics Cop and creator of Paula's Choice Skincare. Paula's expertise has led to hundreds of appearances on national and international radio, print, and television including:



The Paula's Choice Research Team is dedicated to busting beauty myths and providing expert advice that solves your skincare frustrations so you can have the best skin of your life!