Do You Need a Special Face Wash for Acne?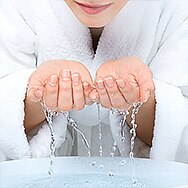 We would love it if getting rid of acne were as simple as using an acne face wash, but that's not how it works. Getting (and keeping) acne under control requires more than that; besides, even the best facial cleansers for acne won't address the entire issue because acne isn't about skin being dirty!
Cleansing acne-prone skin matters most as a means for removing the excess oil that contributes to breakouts and removing the day's makeup and debris that—if left on skin overnight—can clog pores. The best face cleanser for acne must also treat skin gently. That last part is key to getting great results from your anti-acne face wash.
Does Medicated Acne Wash Work?
Several cleansers for acne (including the number one acne face wash at the drugstore) are medicated with at least one of the two best over-the-counter ingredients to fight breakouts: benzoyl peroxide and salicylic acid. A smaller number of acne face wash products contain other active ingredients like sulfur, but these tend to be needlessly drying.
Although there is research showing that benzoyl peroxide and salicylic acid provide some benefit when used in a cleanser, they're in contact with skin so briefly that the active ingredients don't have an opportunity to do a great job. You could leave the medicated acne face wash on your skin longer, but doing so increases the risk of irritation and dryness from the cleansing agents.
A far better approach: Wash your face with a gentle, water-soluble cleanser formulated for acne-prone skin, and follow with leave-on products that contain salicylic acid to exfoliate and benzoyl peroxide. These begin working immediately and continue to work over time to fight stubborn acne, prevent future breakouts, and help reduce the look of red marks.
Remember: The best face cleanser for acne is one that treats skin gently while doing its job to remove excess oil and surface debris, clearing the way for you to get clearer skin.
Learn more about facial cleansers.
References for this information:
British Journal of Dermatology, July 2015, Supplement 1, pages 13–19
The Journal of Clinical and Aesthetic Dermatology, December 2013, pages 19–27; and November 2008, pages 48–51
Clinical, Cosmetic, and Investigational Dermatology, April 2011, pages 41–53
The Journal of Dermatological Treatment, May 2010, pages 201–205
American Journal of Clinical Dermatology, Supplement 10, 2009, pages 1–6

About the Experts
Paula Begoun is the best-selling author of 20 books about skincare and makeup. She is known worldwide as The Cosmetics Cop and creator of Paula's Choice Skincare. Paula's expertise has led to hundreds of appearances on national and international radio, print, and television including:



The Paula's Choice Research Team is dedicated to busting beauty myths and providing expert advice that solves your skincare frustrations so you can have the best skin of your life!