Do Birth Control Pills Help Acne?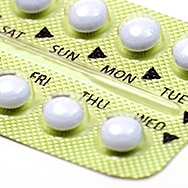 If you've heard that birth control pills can clear up acne and wondered if that's actually true, the answer is … quite possibly. Let's delve into what the research has to say.
How Birth Control Pills Help with Acne
After analyzing numerous studies that compared the effects of different types of oral contraceptives with one another, as well as studies that compared the effects of birth control pills with those of a placebo, the results were impressive! In fact, they unanimously showed that acne can be improved by taking birth control pills.
Which Type/Brand of Birth Control Pills are Best?
While there are many different types of birth control pills, by and large, the consensus is that most deliver similar positive results. Some studies indicate that certain "combined oral contraceptives" net slightly better results over other types of birth control pills; however, the results aren't significant enough to draw a line in the sand. Hence, there's no clear recommendation that one brand or type of oral contraceptive is superior to another—you and your doctor can discuss the pros and cons of each.
Results and Side Effects
Does all of this mean that birth control pills will work to clear up acne for everyone who uses them? Unfortunately, no. While the research is impressive, not every participant saw an improvement in their acne.
It's also important to note that, in most cases, it takes several weeks, even months, before results appear. And, of course, every oral contraceptive has other side effects that you need to discuss with your physician before a prescription is written.
What About Skincare?
Research is clear that using the right acne-fighting skincare products can reduce breakouts. The three key products you need are: a gentle cleanser, a product containing 2.5 to 5% benzoyl peroxide, and a leave-on liquid exfoliant containing 2% BHA (salicylic acid).
This type of skincare routine + oral contraceptives may net even better results.
References for this information:
Cutis, March 2017, pages 195–201
Journal of the American Academy of Dermatology, May 2016, pages 945–947
Clinical, Cosmetic, and Investigational Dermatology, August 2015, pages 455–461
Journal of Drugs in Dermatology, June 2014, pages 66–70
Informed Health Online, January 2013, ePublication
Cochrane Database of Systematic Reviews, July 2012, ePublication
About the Experts
Paula Begoun is the best-selling author of 20 books about skincare and makeup. She is known worldwide as The Cosmetics Cop and creator of Paula's Choice Skincare. Paula's expertise has led to hundreds of appearances on national and international radio, print, and television including:



The Paula's Choice Research Team is dedicated to busting beauty myths and providing expert advice that solves your skincare frustrations so you can have the best skin of your life!