How to Get Rid of Acne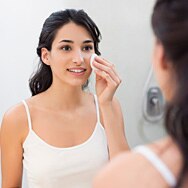 Whether you're a teenager struggling with recurring breakouts or an adult experiencing acne for the first time, there is one universal truth: You want your skin to clear up—fast. Here's what you need to get rid of acne, step by step…
Your Anti-Acne Skin Care Routine
Numerous studies have conclusively shown which skin care ingredients really work to tackle breakouts. Here's what you need to add to your arsenal to fight off acne as soon as it shows up.
When to See a Doctor for Acne
In many cases, adjusting your skin care routine to include gentle, well-formulated anti-acne products will make skin better. However, if you've done that, and you don't see any improvement after four to six weeks, it's time to consider an appointment with a dermatologist. A doctor can prescribe topical and oral medications that work with your skin care routine to help with severe acne.
References for this information:
Dermatologic Therapy, February 2017, pages 926–935
International Journal of Molecular Science, January 2017, page 18
Journal of Cosmetic Dermatology, December 2016, pages 330–334 and 350–357
Clinical Cosmetic Investigative Dermatology, August 2015, pages 455–461
Journal of the European Academy of Dermatology and Venereology, June 2015, pages 14–19; and March 2010, pages 281–292
Inflammation and Allergy Drug Targets, June 2014, pages 177–190
Journal of Women's Health, February 2012, pages 223–230
American Journal of Clinical Dermatology, December 2011, pages 407–420
Cutis, July 2009, pages 48–55

About the Experts
Paula Begoun is the best-selling author of 20 books about skincare and makeup. She is known worldwide as The Cosmetics Cop and creator of Paula's Choice Skincare. Paula's expertise has led to hundreds of appearances on national and international radio, print, and television including:



The Paula's Choice Research Team is dedicated to busting beauty myths and providing expert advice that solves your skincare frustrations so you can have the best skin of your life!