How to Get Rid of Blackheads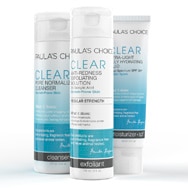 Blackheads can seem impossible to eliminate, but it can be done! Even if it seems you've tried everything, you can stop the cycle of black dots from popping up on your nose, cheeks, and chin. The secret to getting rid of blackheads is using the right mix of products and knowing what to avoid so you don't make blackheads worse.
Here's what to do:
Morning and evening, use a gentle cleanser formulated for breakout-prone skin. At night, it can help to use a washcloth or a soft-bristle cleansing brush to ensure you remove all of your makeup.

Apply a super-gentle, leave-on beta hydroxy acid (BHA, or salicylic acid) exfoliant to your face. BHA is a key ingredient to get rid of blackheads, especially on the nose—the most oil-prone area for most people. BHA can penetrate the oil in the pore to reach the root of the problem, unclogging the pore and restoring a normal flow of oil to skin's surface. What's more, BHA is suitable even for milia-prone skin!

Use gentle products to absorb excess oil. For example, if you have oily skin, dabbing our Shine Stopper Instant Matte Finish onto oil-prone areas keeps skin looking shine-free.
Notice that we used the word "gentle" quite a bit? Treating skin gently is a key factor in not making blackheads worse. When you use harsh scrubs and products with irritating ingredients, like denatured alcohol and peppermint, the sensitizing effect can trigger more oil production, and more oil means more blackheads.
What else can you do? Avoid emollient or greasy moisturizers and sunscreens in blackhead-prone areas. Instead, apply gel, lightweight lotion, or liquid products, even if you need to layer them to get the right level of hydration. Thick, creamy skincare products are more likely to clog pores.
Avoid blackhead-eliminating scrubs and peel-off pore strips. Both are capable of producing only short-term results and deal only with the uppermost visible portion of the blackheads. Neither type of product gets to the root of what causes blackheads the way a leave-on exfoliant with salicylic acid can.
Last, avoid facial soaps and bar cleansers. Both can leave a residue that builds up on skin and contributes to clogged pores.
Best Way to Remove Blackheads
If your blackheads don't respond well to the tips above, consider having them manually extracted by a well-trained aesthetician. An aesthetician can carefully and precisely extract blackheads without hurting your skin.
You can also try to remove blackheads yourself with our Professional Blemish Extracting Tool, but follow our instructions carefully. Aggressive squeezing, poking, and prodding can aggravate skin and exacerbate the problem.
Above all else, be gentle and ensure your aesthetician follows suit. You can maintain the results from professional extractions by routinely using a gentle cleanser and a leave-on BHA exfoliant, along with lightweight products that won't trigger more blackheads.
References for this information:
Cochrane Database of Systematic Reviews, November 2014, ePublication
The Journal of Clinical and Aesthetic Dermatology, May 2012, pages 32–40
Clinics in Dermatology, September-October 2004, pages 367–374
About the Experts
Paula Begoun is the best-selling author of 20 books about skincare and makeup. She is known worldwide as The Cosmetics Cop and creator of Paula's Choice Skincare. Paula's expertise has led to hundreds of appearances on national and international radio, print, and television including:



The Paula's Choice Research Team is dedicated to busting beauty myths and providing expert advice that solves your skincare frustrations so you can have the best skin of your life!