How to Get Rid of Bacne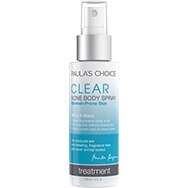 Is there anything worse than dealing with acne on the back (commonly known as "bacne")?
Bacne can be stubborn, often requiring more involved treatment than facial acne, despite the fact that the underlying causes are the same. We delved into the research about how to clear bacne and help it stay away!
How to Treat Bacne
Getting rid of bacne begins with gentle, anti-acne skin care products that cleanse, help control acne and prevent future breakouts, plus cut through excess oil to unclog pores and banish bumps. The trick is to follow an anti-acne routine consistently, not to mention the easier-said-than-done part: Being patient.
The best bacne products are fragrance free and don't contain ingredients that can irritate skin, which will only make the redness and oil components of back acne worse. That means avoiding acne skin care products that contain denatured alcohol, menthol, all forms of mint, eucalyptus, lavender, and sulfur.
Instead, you need gentle products formulated with proven acne-fighting ingredients like benzoyl peroxide and salicylic acid. Here's how to treat bacne with skin care products:
Cleanse your back with a gentle (there's that word again!), fragrance-free body wash.
Apply a lotion medicated with benzoyl peroxide to fight existing acne and prevent future breakouts. For mild to moderate acne, a 2.5% benzoyl peroxide treatment should do the trick. Those with more stubborn, severe acne can benefit from a 5% concentration.
Follow with a light misting of an alcohol-free acne body spray, specially formulated with 2% salicylic acid to make treating bacne fast and easy.
Salicylic acid can also help fade the look of post-acne marks, making it an all-around superstar ingredient for fighting acne.
Some cases of bacne will require more than over-the-counter products can provide. If your bacne doesn't respond well to skin care after a month or so of daily use, consult your dermatologist about oral and topical prescription products to use along with your skin care routine. This combination is the best approach if your bacne pimples are large, painful, and deep beneath skin's surface.
What about using acne body washes that contain active ingredients benzoyl peroxide or salicylic acid? While those can be slightly helpful in some cases, research has shown that both ingredients work best—especially for stubborn acne—when left on skin rather than rinsed off.
References for this information:
Indian Journal of Dermatology, July 2017, pages 341–357
Dermatology and Therapy, December 2016, pages 555–578
The Journal of Clinical and Aesthetic Dermatology, November 2010, pages 26–29
Seminars in Cutaneous Medicine and Surgery, September 2008, pages 170–176

About the Experts
Paula Begoun is the best-selling author of 20 books about skincare and makeup. She is known worldwide as The Cosmetics Cop and creator of Paula's Choice Skincare. Paula's expertise has led to hundreds of appearances on national and international radio, print, and television including:



The Paula's Choice Research Team is dedicated to busting beauty myths and providing expert advice that solves your skincare frustrations so you can have the best skin of your life!