Teen Acne Versus Adult Acne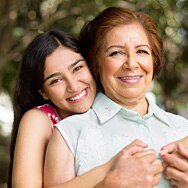 The battle against acne is one that's waged across nearly every age group. Although acne is most identified with and common for teens, it's also surprisingly common among adults. So, is there a difference between what causes a teen to have breakouts and what causes breakouts for someone who has clear skin until they reach adulthood?
The truth is it's difficult to pinpoint the exact causes of acne per person, but researchers have a pretty good idea. In teens, the changes that occur during puberty are thought to play a big role, as they have a major influence on all the body's systems, including how oil in the skin is regulated and flows through the pores.
For adults, acne is generally more common in women than men, for much the same reason: Changes that occur once women reach a certain age range affect systems in their bodies, and also what they see in the mirror, for better or worse.
For all ages, things that can make breakouts a bigger ordeal include overdoing it on cleansing with harsh scrubs or stiff cleansing brushes, and using products containing irritating ingredients such as SD or denatured alcohol, witch hazel, menthol, peppermint, essential oils, and citrus oils. Irritation always makes acne worse! And you really must watch out for this because lots of anti-acne products contain problematic ingredients that don't lead to clear skin.
Treating Acne at Any Age
You'll find acne products labeled specifically for teens or for adults, but here's what they typically don't tell you: What really works for acne works for all ages dealing with breakouts. Taking care of skin prone to acne can require customizing your skincare routine, but these products from Paula's Choice Skincare are universal examples of anti-acne done right:
CLEAR Normalizing Cleanser is a fragrance-free, soap-free cleanser that's gentle on skin, but effective in removing surface oil, makeup, and dirt without drying out skin.
Our CLEAR Anti-Redness Exfoliating Solution products fight acne with the power of salicylic acid in two ways: First, they exfoliate deep down into pores to unclog them and restore normal oil flow; second, they help calm the redness that accompanies acne breakouts. Choose our Regular Strength version for mild to moderate breakouts; use Extra Strength for more stubborn acne.
Our CLEAR Daily Skin-Clearing Treatment features the gold-standard acne-fighting ingredient benzoyl peroxide. It comes in two strengths: 2.5% and 5%—start with the lower strength and see how your skin responds before moving to the higher strength option.
Along with daily sun protection—something even acne-prone skin needs, you have the best over-the-counter recipe for winning the battle against breakouts, whether you just got your driver's license or bought your first home!
References for this information:
Journal of the European Academy of Dermatology and Venereology, October 2016, pages 1790–1793
Journal of Evolution Medical and Dental Sciences, August 2016, page 4552
Journal of the American Academy of Dermatology, May 2016, pages 945–973
Current Opinion in Pediatrics, August 2008, pages 436–440
Journal of Cosmetic Science, January/February 2004, pages 65–80
About the Experts
Paula Begoun is the best-selling author of 20 books about skincare and makeup. She is known worldwide as The Cosmetics Cop and creator of Paula's Choice Skincare. Paula's expertise has led to hundreds of appearances on national and international radio, print, and television including:



The Paula's Choice Research Team is dedicated to busting beauty myths and providing expert advice that solves your skincare frustrations so you can have the best skin of your life!