10 Expert-Approved Anti-Aging Products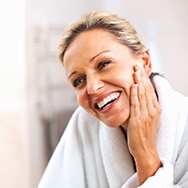 Anti-aging is a big deal—perhaps the biggest deal—in the world of skincare. There's a dizzying array of products to choose from, all with their own set of amazing claims. So, how on earth do you know which ones will really work for your anti-aging concerns? It all comes down to the ingredients, which is where Paula's Choice Skincare specializes!
Key Anti-Aging Ingredients
The key to your search is finding products that are chock-full of anti-aging ingredients that deliver real results. There are plenty of skincare companies that claim to have discovered or use one-of-a-kind, proprietary anti-aging ingredients or ingredient blends, but many of these ingredients simply don't have the research to back up their claims—and it's research that matters most when it comes to getting what you want out of a product!
At Paula's Choice Skincare, we've spent decades poring over studies to learn which anti-aging ingredients have the most evidence to support their claims, and how they work with other cosmetic ingredients.
Of course there's always emerging research and discoveries, which we follow closely, but here are some of the best-studied ingredients you should look for in an anti-aging skincare product (click the links for details on their benefits for skin): retinol, antioxidants, omega fatty acids, ceramides, and skin-restoring and skin-replenishing ingredients like niacinamide and hyaluronic acid. These ingredients deliver results that will have your skin looking younger, fast.
Before you get too excited, commit this to memory: Daily sunscreen use is crucial to preventing or slowing the signs of aging. Make sure that during the day you use a product rated SPF 30 or greater for maximum wrinkle fighting and reducing other signs of aging. This is a must-do step in your anti-aging skincare routine!
One final note: Packaging of anti-aging skincare products matters. Many of the ingredients mentioned above are delicate, and begin to degrade (meaning they lose their effectiveness) as soon as they're exposed to light and air. If your anti-aging product is packaged in a jar that lets air in or in a clear package that doesn't have a UV coating, steer clear!
10 Expert-Approved Anti-Aging Products
Now that you have the information you need to find anti-aging products that really work, we're going to help you out even more—with our recommendation of 10 Paula's Choice Skincare anti-aging products guaranteed to deliver visible results:
Learn more about anti-aging & wrinkle solutions.
References for this information:
Journal of the European Academy of Dermatology and Venereology, September 2017, pages 18–21 and December 2015, pages 2326–2332
Journal of Cosmetic Dermatology, March 2016, pages 49–57
Journal of Clinical Medicine, February 2016, ePublication
Brazilian Archive of Biology and Technology, January-February 2012, pages 127–134
The Journal of Clinical and Aesthetic Dermatology, June 2011, pages 45–55
Dermato-endocrinology, July 2012, pages 253–258

About the Experts
Paula Begoun is the best-selling author of 20 books about skincare and makeup. She is known worldwide as The Cosmetics Cop and creator of Paula's Choice Skincare. Paula's expertise has led to hundreds of appearances on national and international radio, print, and television including:



The Paula's Choice Research Team is dedicated to busting beauty myths and providing expert advice that solves your skincare frustrations so you can have the best skin of your life!