Acne & Aging Skin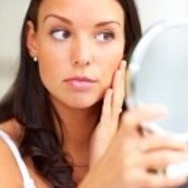 Choosing skincare products for acne or signs of aging is challenging enough when you're dealing with one or the other. But when you're struggling with both at the same time, it can be maddening.
If you choose anti-acne products, you're likely concerned they can make your skin dry or flaky, which makes the signs of aging even worse. On the other hand, if you use products to ward off signs of aging, especially if they're creamy or thick, the breakouts and clogged pores will likely get worse.
What to do? The fundamental answer to this dilemma is to use a mix of anti-acne products (that won't make wrinkles worse) and anti-aging products (that won't make acne worse). And, believe it or not, such products do exist!
The anti-acne products must be formulated to be gentle, non-drying, and skin softening, yet still highly effective against acne. And the powerhouse anti-aging products you use must have fluid, lightweight textures without any pore-clogging ingredients.
For anti-acne, the absolute best place to start is a leave-on, skin-calming exfoliant that contains salicylic acid (BHA). The other anti-acne product you need is one that contains 2.5% benzoyl peroxide, as this works with the salicylic acid to keep acne in check.
These are the two essential anti-acne ingredients and should be your first choice before you seek professional attention, as they're wonderfully effective even when you're dealing with "adult acne."
For your anti-aging needs, you need to use the lightest formulas that are loaded with ingredients that help normalize and rejuvenate your skin so it's ultra-smooth and radiant. These remarkable types of ingredients don't have to have a cream or even a lotion texture; they can have a gel or fluid texture that hydrates but doesn't clog pores.
For your daily skincare routine, your skin will love our RESIST Essential or Advanced Kit for Normal to Oily Skin. Start there, and then consider adding other products.
It can also be incredibly helpful to use our 10% Niacinamide Booster and 1% Retinol Booster. Abundant research has firmly established the roles of niacinamide and retinol in minimizing pores and their numerous anti-aging benefits, including improving the look of skin tone, loss of firmness, and wrinkles.
For more information on how to incorporate Paula's Choice Skincare products into your personal routine, you can schedule a free one-on-one consultation with one of our Client Services representatives here.
References for this information:
Human Microbiome Journal, June 2017, pages 7–13
Dermatologic Therapy, February 2017, pages 926–935
International Journal of Molecular Science, January 2017, page 18
Journal of Cosmetic Dermatology, December 2016, pages 330–334; and 350–357
Clinical Cosmetic Investigative Dermatology, August 2015, pages 455–461
Journal of the European Academy of Dermatology and Venereology, June 2015, pages 14–19; and March 2010, pages 281–292
Dermatoendocrinology, July 2012, pages 308–319
Journal of Women's Health, February 2012, pages 223–230
American Journal of Clinical Dermatology, December 2011, pages 407–420
Cutis, July 2009, pages 48–55
Seminars in Cutaneous Medicine and Surgery, September 2008, pages 170–176
About the Experts
Paula Begoun is the best-selling author of 20 books about skincare and makeup. She is known worldwide as The Cosmetics Cop and creator of Paula's Choice Skincare. Paula's expertise has led to hundreds of appearances on national and international radio, print, and television including:



The Paula's Choice Research Team is dedicated to busting beauty myths and providing expert advice that solves your skincare frustrations so you can have the best skin of your life!