Anti-Aging Primers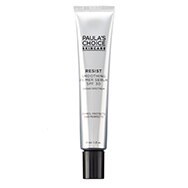 Primers have become an essential part of makeup routines because the best ones provide a perfect canvas for unbelievably smooth foundation application, keep your foundation's color true all day long, and even help your makeup last longer.
While those features are amazing, some primers go even further by offering generous amounts of anti-aging ingredients, and the best of the best even offer vital SPF 30 sun protection! When formulated to provide all these benefits, a primer can become an indispensable part of your makeup arsenal.
What Makes a Good Anti-Aging Makeup Primer?
This new generation of primers is exciting because they provide more than just an aesthetic benefit; they offer brilliant skincare ingredients while steering clear of problematic ingredients such as alcohol or fragrance (natural or synthetic, fragrance is bad for skin). Sadly, these bad-for-skin ingredients are found in a number of makeup primers, particularly in primer mists.
When seeking out one of the star-studded beneficial primers, look for a formula that's rich in antioxidants and also has sunscreen SPF 30. This combination helps shield skin from sun damage that results from unprotected sun exposure and from environmental factors, thus limiting the visible signs of aging. It's also important that these primers that are loaded with beneficial ingredients be packaged in a container that minimizes the antioxidants' exposure to light and air because they begin to degrade when exposed, decreasing their potency. That means you should buy these products only if they are in opaque containers, not clear packaging.
Among these top-of-the-line anti-aging primers, we're proud to say Paula's Choice Skincare's RESIST Smoothing Primer Serum SPF 30 is formulated to provide everything we want you to find in a primer: A powerhouse anti-aging serum with sunscreen and foundation-smoothing properties.
This primer contains a robust blend of antioxidant-rich ingredients, such as coffee seed extract, retinyl palmitate, green tea, apple fruit extract, and green algae. It also contains multiple soothing ingredients—bisabolol, chamomile, licorice, and aloe—to calm skin, making it ideal for all skin types.
So, what about sun protection? Many women shy away from applying a product with SPF before applying makeup because they don't like the aesthetic results. But … it's crucially important (we can't stress this enough) for you to wear an SPF product every day because sun exposure and the resulting sun damage is one of the leading causes of premature signs of aging. Primers with SPF are a great way to get this protection, and you can apply them over your moisturizer with sunscreen and/or under your foundation with sunscreen. Layering products with sunscreen is a wonderful way to get even better sun protection!
Last, but most certainly not least: The satiny-smooth texture of our primer means it works exceptionally well to make any foundation look its absolute best. It also has a wrinkle-blurring effect to soften the appearance of fine lines.
There are lots of primers that make foundation application easier, but you can and should consider those with multitasking formulas. That's why we created our RESIST Smoothing Primer Serum SPF 30. We think you'll like it as much as we do.

Learn more about anti-aging & wrinkle solutions.
About the Experts
Paula Begoun is the best-selling author of 20 books about skincare and makeup. She is known worldwide as The Cosmetics Cop and creator of Paula's Choice Skincare. Paula's expertise has led to hundreds of appearances on national and international radio, print, and television including:



The Paula's Choice Research Team is dedicated to busting beauty myths and providing expert advice that solves your skincare frustrations so you can have the best skin of your life!