How to Take Care of Oily or Combination Aging Skin That's Sensitive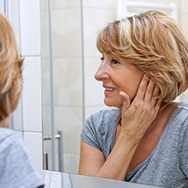 It's quite a task to find an anti-aging cream for sensitive skin—a product to do the work of plumping, smoothing, firming, evening skin tone, diminishing the appearance of lines and wrinkles, and providing broad-spectrum sun protection—while also calming redness, soothing skin, and not causing irritation. In part, because no one product can do everything a good anti-aging routine needs to accomplish. As a result, Paula's Choice Skincare designed two kits especially for oily skin, each containing a few products designed to work together as an anti-aging team.
In particular, what makes our RESIST anti-aging line ideal for sensitive skin is that every product is fragrance-free, with textures appropriate for every skin type. The Essential Kit covers the anti-aging for oily, sensitive skin basics—for those who like a stellar, but quick routine. The Advanced Kit adds three more products for a bit more anti-aging (and oil balancing) oomph.
The RESIST Essential Kit for Normal to Oily Skin includes a simple, three-step routine for a.m. and p.m.: Cleanse, exfoliate, moisturize, with sun protection during the day, and a boost of anti-aging all-star ingredients at night.
The RESIST Advanced Kit for normal to oily skin adds two more quick steps into your daily routines, and one occasional addition:
Learn more about anti-aging & wrinkle solutions.
Learn more about sensitive skin.
References for this information:
PRS Global Open, December 2016, page e1152
Journal of European Academy of Dermatology and Venerology, September 2016, issue 9, pages 1480–1490
International Journal of Molecular Science, 2016, issue 3, pages 401
International Journal of Cosmetic Science, August 2016, ePublication; February 2015, pages 455–464; and October 2009, pages 327–345
Journal of Clinical, Cosmetic and Investigational Dermatology, 2015, volume 8, pages 455–461
Journal of Clinical and Aesthetic Dermatology, October 2015, issue 8, pages 21-26
Phytotherapy Research, August 2015, issue 8, pages 1117–1122
Clinical, Cosmetic, and Investigational Dermatology, December 2014, pages 9–17
Evidence Based Complementary Alternative Medicine, 2013, volume 2013, article 827248
Journal of Cosmetic Dermatology, June 2013, issue 2, pages 96–102
About the Experts
Paula Begoun is the best-selling author of 20 books about skincare and makeup. She is known worldwide as The Cosmetics Cop and creator of Paula's Choice Skincare. Paula's expertise has led to hundreds of appearances on national and international radio, print, and television including:



The Paula's Choice Research Team is dedicated to busting beauty myths and providing expert advice that solves your skincare frustrations so you can have the best skin of your life!