The Best Facial Cleansers for Aging Skin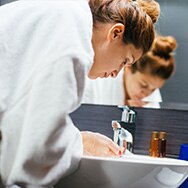 A great anti-aging routine includes a variety of products, from moisturizers and serums to exfoliants and boosters. Also key is the type of cleanser you use: The right one will perfectly set the stage for your best anti-aging results.
You might think that any product that gets your face clean should work, but there are other factors to consider. After all, cleansers wash away dirt, excess oil, surface dead skin debris, and makeup to prep skin for better absorption of your anti-aging products, which is an important job.
Your cleanser should be free of irritants like fragrance or alcohol, as they can cause pro-aging irritation. Selecting a cleanser best suited to your skin type is important as well; even as your skin ages, you still have concerns such as dryness or oiliness and enlarged pores.
At Paula's Choice Skincare, we developed our lineup of cleansers specifically to meet the needs of different skin types and concerns. Here are our picks for the ones that are the ideal first step in an anti-aging skincare routine.
Facial Cleansers for Aging Skin
RESIST Optimal Results Hydrating Cleanser – Designed for skin that's dry, this luxe lotion cleanser softens skin and replenishes moisture for a visibly smoother appearance. Works beautifully to remove all types of makeup.
RESIST Perfectly Balanced Foaming Cleanser – A lightweight, gentle foaming cleanser that removes excess oil without drying out skin and helps reduce the appearance of enlarged pores for a smoother, more youthful look.
Perfect Cleansing Oil – A skin-replenishing blend of non-fragrant plant oils creates an emulsion when mixed with water that whisks away dirt, oil, and even waterproof sunscreen and makeup—all without the need for tugging that can worsen fine lines and hasten sagging.
Learn more about facial cleansers.
References for this information:
Nutrition and Metabolic Insights, August 2016, pages 59–64
International Journal of Molecular Science, 2016, page 401
Dermato-Endocrinology, July 2012, issue 3, pages 253–258
About the Experts
Paula Begoun is the best-selling author of 20 books about skincare and makeup. She is known worldwide as The Cosmetics Cop and creator of Paula's Choice Skincare. Paula's expertise has led to hundreds of appearances on national and international radio, print, and television including:



The Paula's Choice Research Team is dedicated to busting beauty myths and providing expert advice that solves your skincare frustrations so you can have the best skin of your life!