Best Serums for Wrinkles and Firming Skin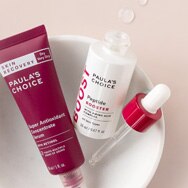 Serums are a fascinating part of skin care, but only when they're brilliantly formulated. Serums for anti-aging must strike a perfect balance between giving your skin superior hydration, powerful skin-restoring ingredients, and a dynamic blend of antioxidants to really help diminish the look of fine lines, wrinkles, and loss of resiliency. Those are the ingredients that matter.
At Paula's Choice Skincare, we constantly scrutinize and work to understand the exciting research about what skin really needs, and what it does not need, to look younger. This is the approach we use to create our RESIST serums.
A lot of people wonder what differentiates a serum from a moisturizer. It's a great question! Essentially, serums are distinctive because of the concentration and potency of the vital ingredients they contain.
We also recognize the fundamental need to use only those products that are best for your skin type. Someone with dry skin shouldn't be using the same textures and ingredient combinations as someone with combination or oily or congested skin.
We also formulate serums with textures that are truly universal and work for all skin types, so you can easily add one or more to your routine without making your face feel like it has too many products on it. Our RESIST Omega + Complex is an excellent example based on its ultra-light feel and skin-strengthening benefits. You can layer it with other serums or use it alone, followed by a moisturizer if your skin is dry.
A great way to enhance the results from any of our serums is to mix or layer a serum with one of our boosters. For example, our Peptide Booster can be applied with any of our serums for more targeted results on concerns like loss of firmness and dehydration. Or you can more precisely target the look of uneven skin tone and wrinkles by layering our C15 Super Booster with RESIST Super Antioxidant Concentrate Serum. It's one more way you can easily customize your routine to ensure it meets your specific needs.
Along with broad-spectrum sun protection and exfoliation with an AHA or BHA product, daily use of a well-formulated serum is the cornerstone of any great anti-aging skin care routine.
Learn more about anti-aging & wrinkle solutions.
References for this information:
Archives of Dermatological Research, August 2017, pages 423–431
European Journal of Pharmaceutics and Biopharmaceutics, August 2017, pages 195–202
American Journal of Clinical Dermatology, July 2017, pages 1–15
Expert Opinion on Drug Delivery, March 2017, pages 1–15
Skin Research Technology, November 2014, pages 498–502; and February 2013, pages 349–355
Antioxidants Redox Signaling, September 2014, pages 1063–1077
Journal of the American Academy of Dermatology, July 2014, pages 177–184
International Journal of Science, February 2013, pages 19–26
Dermato Endocrinology, July 2012, pages 308–319

About the Experts
Paula Begoun is the best-selling author of 20 books about skincare and makeup. She is known worldwide as The Cosmetics Cop and creator of Paula's Choice Skincare. Paula's expertise has led to hundreds of appearances on national and international radio, print, and television including:



The Paula's Choice Research Team is dedicated to busting beauty myths and providing expert advice that solves your skincare frustrations so you can have the best skin of your life!