How to Diminish Uneven Skin Tone & Get Your Glow Back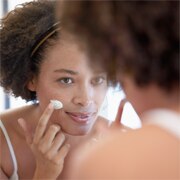 The appearance of uneven skin tone on the face, chest, and hands is a clear sign of aging skin, but it doesn't have to stay that way. With the right mix of products, you really can get your youthful glow back! We'll share the most effective skin-brightening formulas and help you narrow down the choices by skin type.
But first, we start with the most crucial step, which is to keep this problem from happening in the first place and maintaining the brighter, beautifully even results you want.
Why Sun Protection is a Must!
Daily use of a broad-spectrum sunscreen rated SPF 30 or greater is the number one way to stave off the appearance of uneven skin tone. If used as directed with other sun protection measures, it also decreases the risk of skin cancer and early skin aging caused by the sun. You will never get the brighter complexion you want without this all-important skincare step.
At Paula's Choice Skincare, we're particularly keen on mineral-based sunscreens (titanium dioxide and/or zinc oxide are the active ingredients) for this issue. Their reflective quality, which is what helps guard the skin from UV rays, gives them an edge in warding off uneven skin tone and fine lines at the same time.
For oily, combination, or breakout-prone skin try our RESIST Super-Light Daily Wrinkle Defense SPF 30, which provides a sheer tint of color and gentle mineral-derived protection.
For normal to dry skin consider our CALM Redness Relief SPF 30. The soothing, creamy formula helps brighten an uneven skin tone and is loaded with antioxidants to boost its anti-aging benefits.
For your hands, décolletage, and body, check out our EXTRA CARE Non-Greasy Sunscreen SPF 50, which absorbs quickly into skin so you can go about your day—no slick, creamy residue left behind.
Top Ingredients for Glowing, Even Skin Tone
Today, we know from research even more about the ingredients proven effective for achieving a brighter complexion, and there are more options than ever before. Unfortunately, that doesn't make it any easier for you to sort through the parade of products that often rely on gimmicky, unproven, and sometimes even skin-aggravating ingredients.
That's where we can help... backed by research, we highlight below the ingredients that are considered among the most effective for improving the appearance of uneven skin tone while also addressing visible signs of aging. These are multi-taskers you'll want to get to know!
It bears repeating: If you aren't using sunscreen 365 days a year, you aren't going to be able to maintain an even skin tone, no matter what else you do—sun protection is a must!
Hydroquinone + AHA or BHA
Hydroquinone is the gold standard for fading the appearance of brown spots and significantly improving uneven skin tone over time. There are alternative ingredients to hydroquinone, but their effectiveness is always compared to hydroquinone.
To speed up the results from this remarkable (albeit controversial) ingredient, look for formulas that pair 2% hydroquinone with BHA (salicylic acid) or AHA (glycolic acid) exfoliants—the power couple for radiant, smooth skin!
For oily, combination, or breakout-prone skin try our RESIST Triple-Action Dark Spot Eraser 2% BHA Gel.
For normal or dry skin, consider our RESIST Triple-Action Dark Spot Eraser 7% AHA Lotion.
Note: Hydroquinone takes time (at least 8 weeks of twice-daily use) to work. Think of it this way: The brown spots and uneven skin tone you're seeing now took years to develop, so it's not realistic to think these concerns will go away overnight.
Niacinamide + Acetyl Glucosamine
The two ingredients in this skin-brightening duo—niacinamide and acetyl glucosamine—have impressive research showing their ability to alleviate the appearance of uneven skin tone and red areas!
All skin types can benefit from this ingredient coupling, found in our RESIST Pure Radiance Skin Brightening Treatment. This silky, sheer lotion also includes potent antioxidants and imparts a subtle luminous sheen to give skin an overall youthful, hydrated glow—even when worn under makeup.
Ascorbic Acid: Vitamin C
High concentrations of ascorbic acid (the technical name for pure vitamin C) have been proven to significantly improve the appearance of uneven skin tone. Research also has shown that combining vitamin C with other skin-brighteners, such as antioxidants, licorice extract, and bearberry extract, produces even more powerful results for a brighter and more even skin tone.
For an all-over skin-brightening solution, apply our C15 Super Booster before your serum and moisturizer. Its light-as-water formula contains 15% ascorbic acid with a unique peptide + antioxidant blend for skin that will appear dramatically brighter, firmer, and healthier.
For more directed results to specific areas, try our most potent form of vitamin C, C25 Super Booster.
Still not sure which product to use? Contact our Client Services Team, who can help guide you to the best options for your particular skin type and skin tone concerns.
Azelaic Acid
High concentrations of azelaic acid (10% or greater) can bring about a remarkable difference for a blotchy, uneven skin tone. Azelaic acid's refining abilities also allow it to progressively brighten a dull skin tone, restoring a more youthful look. Azelaic acid can be used by all skin types and is even suitable for sensitive and acne-prone skin. Our 10% Azelaic Acid Booster combines this multi-tasking ingredient with plant-derived soothing and skin-brightening ingredients, plus 0.5% salicylic acid for a pore-refining nudge, and energizing adenosine for its added anti-aging benefits.
Learn more about anti-aging & wrinkle solutions.
Learn more about skin brightening.
References for this information:
The Jounal of Clinical and Aesthetic Dermatology, August 2014, pages 13-17
International Journal of Molecular Sciences, June 2013, pages 12,222-12,248
Indian Dermatology Online Journal, April-June 2013, pages 143-146
Archives of Dermatological Research, November 2011, pages 669-678
British Journal of Dermatology, February 2010, pages 435-441
Journal of Cosmetic Dermatology, March 2007, pages 20-26
About the Experts
Paula Begoun is the best-selling author of 20 books about skincare and makeup. She is known worldwide as The Cosmetics Cop and creator of Paula's Choice Skincare. Paula's expertise has led to hundreds of appearances on national and international radio, print, and television including:



The Paula's Choice Research Team is dedicated to busting beauty myths and providing expert advice that solves your skincare frustrations so you can have the best skin of your life!