The Truth About Wrinkle Creams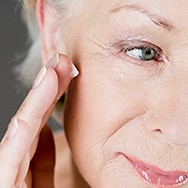 Most of us want to look as young as possible for as long as possible, so it's no surprise that wrinkle creams are a multi-billion-dollar business. Every one of them claims to improve signs of aging in noticeable ways, but how many can back that up with results? We've been analyzing wrinkle cream ingredients and the research behind them for over 30 years, and here's the truth: It's not about the claims and prices, it's all about what's inside.
Which Wrinkle Creams Work
Regardless of price, lofty claims, or where it's sold, there are certain factors that all wrinkle creams need to be effective. Here's what lots of research has shown makes a truly great wrinkle cream:
Note that skin's natural supply of replenishing, restoring, and antioxidant ingredients dwindle with age and accumulated sun damage, so giving these ingredients back in abundance is critical for younger-looking skin.
What else matters when shopping for wrinkle creams? Plenty! Keep these important features in mind:
If it's labeled a day cream, SPF must be provided. Sun protection is the single most important thing you can do to keep skin looking younger. Sun damage is a major cause of most of the signs of aging, so avoiding it is vital!
Stable packaging. Even if a wrinkle cream is chock-full of great ingredients, if it's not packaged stably, those ingredients lose their effectiveness as soon as it's opened, meaning it's a waste of time and money. Instead of jars with twist-off lids or clear packaging that isn't UV-coated, look for tubes, airless jars, pumps, sprays, or bottles that protect a formula's best ingredients.
Gentle formulas. Fragrance can make a wrinkle cream smell divine, and SD or denatured alcohol can make it feel lighter and absorb faster, but the irritation such ingredients cause can trigger processes in the body that are pro-aging.
If your wrinkle cream checks off all these boxes, then you have one that's truly great and will yield results you'll be happy to show off.
Last, it's important to know that skin care can only do so much—if you have very deep-set wrinkles or pronounced sagging, a cosmetic dermatologist can offer procedures that will make a difference where skin care cannot. That's why, for most people, the best approach to reducing wrinkles is a great skin care routine coupled with doctor-administered procedures to address deeper concerns.
References for this information:
International Journal of Molecular Medicine, July 2016, pages 16–22
The American Cancer Society, April 2017, ePublication
Current Problems in Dermatology, volume 49, 2016, pages 90–102
Aging Research Reviews, January 2015, pages 8–21
Dermatologic Therapy, May-June 2012, pages 252–259
Current Drug Delivery, November 2011, pages 640–660
Journal of Dermatological Sciences, January 2015, pages 28–36
About the Experts
Paula Begoun is the best-selling author of 20 books about skincare and makeup. She is known worldwide as The Cosmetics Cop and creator of Paula's Choice Skincare. Paula's expertise has led to hundreds of appearances on national and international radio, print, and television including:



The Paula's Choice Research Team is dedicated to busting beauty myths and providing expert advice that solves your skincare frustrations so you can have the best skin of your life!