Everything You Need to Know About Prebiotics and Skin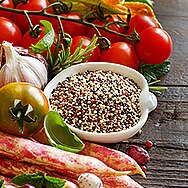 Prebiotics are an intriguing group of ingredients making skincare headlines because of the important role they can play in addressing a variety of skin concerns. Research about the health benefits of eating prebiotics because of their positive effect on probiotics is well established; now emerging research is shedding fascinating light on how prebiotics can work when applied to skin.
What are Prebiotics for Skin?
Prebiotics are foods (usually carbohydrates) that when eaten help maintain digestive and other parts of the body. They do this by increasing the production of probiotics, which are the good bacteria in the body that keep our insides balanced and healthy.
Experts around the world consider probiotics fundamental to being healthy and youthful, and since prebiotics are the natural partner to probiotics, eating both gives you the best of both worlds. As it turns out, benefits are also apparent when these ingredients are applied to skin.
What are Probiotics for Skin?
Probiotics naturally live on the surface of skin, creating a protective veil referred to as the skin's microbiome. When your skin's microbiome is in balance, it helps offset factors that can negatively influence skin, such as factors that lead to redness, dryness, and a weakened surface that more quickly shows signs of aging from environmental attack.
Applying good probiotics to skin along with the prebiotics that help probiotics thrive can keep the surface of skin—its first line of defense—balanced, younger-looking, and strong.
How Do You Apply Prebiotics?
The food sources of probiotics are not the same as those of prebiotics. Probiotics are special strains of helpful microorganisms found in foods such as yogurt, kimchi, and kefir. Foods with prebiotics include garlic, onions, oats, barley, wheat bran, asparagus, bananas, and flaxseed as well as a plant fiber known as inulin, found in chicory root. Some of these plant extracts or their derivatives are included in skincare products (like serums and moisturizers) so you can apply prebiotics to enhance your skin's microbiome.
Even better for skin when applied topically are prebiotic plant sugars, such as xylitol, rhamnose, and a large group of ingredients known as fructooligosaccharides, which are potent sources of prebiotics (not to mention being natural hydrators). You'll find these ingredients in a variety of leave-on skincare products.
How Prebiotics Work with Probiotics
Part of the support prebiotics provide is that they serve as an energy source for probiotics. Most probiotics are fragile, unstable ingredients that require care and special formulary planning to remain effective in a skincare product. Prebiotics help by "fueling" the probiotics to be at their best, in much the same way as eating a healthy breakfast fuels your body for the day ahead.
A combination of prebiotics and probiotics in skincare can be outstanding for improving skin's surface protection, ensuring skin has what it needs to keep its barrier intact, smooth, and healthy looking. We're excited to see how research on these fascinating ingredients will unfold!
Learn more about anti-aging & wrinkle solutions.
References for this information:
Archives of Dermatological Research, August 2017, pages 411–421
Current Opinions in Biotechnology, February 2016, pages 1–7
Journal of the American Academy of Dermatology, October 2014, pages 814–821
Beneficial Microbes, June 2014, pages 99–107
Nature Reviews Microbiology, March 2011, pages 244–253
About the Experts
Paula Begoun is the best-selling author of 20 books about skincare and makeup. She is known worldwide as The Cosmetics Cop and creator of Paula's Choice Skincare. Paula's expertise has led to hundreds of appearances on national and international radio, print, and television including:



The Paula's Choice Research Team is dedicated to busting beauty myths and providing expert advice that solves your skincare frustrations so you can have the best skin of your life!