How Niacinamide Helps Skin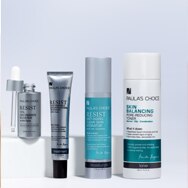 Niacinamide is an ingredient worthy of your attention and your skin will love you for using it. Among a handful of other amazing skincare ingredients such as retinol and vitamin C, niacinamide is a standout because of its versatility for almost any skin care concern and skin type.
As many of you know about us, but for those who don't, the conclusions we make about any ingredient are always based on what the published research has shown to be true—and the research about niacinamide unanimously demonstrates how special it is. In fact, second to retinol and vitamin C, it's one of the most exciting skincare ingredients around!
What is Niacinamide?
Also known as vitamin B3 and nicotinamide, niacinamide is a water-soluble vitamin that works with the natural substances in your skin to help visibly improve the appearance of enlarged pores, uneven skin tone, fine lines and wrinkles, dullness, and a weakened surface.
But niacinamide doesn't stop there! It also reduces the damage environmental attack can cause and plays a role in helping skin to repair signs of past damage. Left unchecked, this type of daily assault makes skin appear older, dull, and less radiant.
Why You Should Use Niacinamide
As you might have gathered, we're very impressed with all that niacinamide can do for skin when applied via skincare products like toners, serums, moisturizers, and specialized solutions. Niacinamide is uniquely compatible with any of the products in your skincare routine, including those that contain retinol, peptides, hyaluronic acid, AHAs BHA, and all types of antioxidants.
You can use multiple niacinamide-containing products in your routine and it will still be non-sensitizing as this ingenious B vitamin is well tolerated by all skin types, even temperamental skin.
Other helpful benefits of niacinamide are that it can help renew and restore the surface of skin against moisture loss and dehydration and help maintain an even skin tone. In terms of moisture retention, topical application of niacinamide has been shown to boost the hydrating ability of moisturizers so skin's surface can better resist the moisture loss that leads to recurrent dry, tight, flaky skin.
How to Use Niacinamide
Using niacinamide is as easy as finding great skincare products that contain it along with other beneficial ingredients like antioxidants, skin-restoring agents, and additional skin-replenishing ingredients.
This cocktail approach to skincare is important because as great as niacinamide is for skin, it's not the only ingredient skin needs to look and feel its best. Think of it like your diet—as healthy as kale is, if kale was all you ate, you'd soon become malnourished because your body needs more than one healthy food to maintain itself. The same is true for skin, the body's largest (and most exposed) organ!
For best results, look for niacinamide in leave-on products and apply it to cleansed skin twice daily. That might mean you apply a specialized solution with niacinamide as part of your morning routine, before sunscreen, and give your skin more niacinamide at night from your serum or facial moisturizer. Experiment to see what works best for you.
You can use niacinamide-containing products around your eyes, too! Some might find applying a moisturizer or eye cream with niacinamide helps improve the look of circles under the eye and help soften the appearance of crow's feet, not to mention enabling this delicate area retain skin-smoothing moisture and resist loss of firmness!
There's no reason to wait to add niacinamide to your skincare routine. This wonderfully versatile B vitamin brings many topical benefits to improve skin's appearance so it appears more even, brighter, and younger—especially if you're diligent about protecting skin daily with a broad spectrum sunscreen rated SPF 30 or greater.
References for this information:
Experimental Dermatology, February 2019, Supplement 1, pages 15-22; and October 2018, ePublication
Dermatologic Therapy, September 2017, ePublication
Journal of Investigative Dermatology, May 2017, page S116
International Journal of Pharmaceutics, March 2017, pages 158-162; and January 2013, Pages 192-201
Facial Plastic Surgery Clinics of North America, May 2016 , pages 145-152
Clinical, Cosmetic, and Investigational Dermatology, July 2015, pages 405-412
Skin Pharmacology and Physiology, June 2014, pages 311-315
International Journal of Pharmacy, January 2013, pages 192-201
Dermatoendrocrinology, July 2012, pages 308-319
Dermatologic Surgery, Volume 31, Part 2, 2005, Discussion 865
International Journal of Cosmetic Science, October 2004, pages 231-238
Journal of Cosmetic Dermatology, March 2004, pages 88-93

About the Experts
Paula Begoun is the best-selling author of 20 books about skincare and makeup. She is known worldwide as The Cosmetics Cop and creator of Paula's Choice Skincare. Paula's expertise has led to hundreds of appearances on national and international radio, print, and television including:



The Paula's Choice Research Team is dedicated to busting beauty myths and providing expert advice that solves your skincare frustrations so you can have the best skin of your life!