How Retinol Works and Can Benefit All Skin Types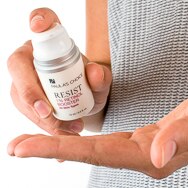 Whether wrinkles, loss of firmness, uneven skin tone, clogged pores, and red or darkened flaws are your concerns, retinol can make all the difference in the world. Regardless of your age or skin type, retinol is a superstar skin-saver you need to know about. But how does it work? With this easy to understand guide, we'll walk you through everything you need to know before shopping for any retinol product.
What is Retinol?
Retinol is another name for vitamin A. There are many derivatives of vitamin A, but retinol is the name for the pure form. Vitamin A has a fascinating impact on skin's surface because it can help restore a more youthful look and feel.
When skin is affected by environmental assault (and everyone's skin is) or you have signs of aging, uneven skin tone, enlarged pores, and skin prone to bumps, retinol steps in and seems to intuitively know what your skin needs to minimize those concerns.
In short, lots of things about your skin's appearance can improve when you use retinol to boost your skin care routine.
How Retinol Functions in Skin
Once retinol has been applied to skin, it goes to work helping skin normalize skin's look and feel, working in tandem with other ingredients proven to visibly diminish numerous skin concerns.
Retinol also helps promote a firmer look, healthier-looking skin, and naturally turns around concerns like dullness and rough texture. With retinol, you'll see renewed, younger-looking radiance, a remarkably smoother appearance, and a noticeable feeling of firmness.
Retinol Benefits
When you start using a product containing an appropriate amount of retinol for your skin type, you will love what starts happening to your skin because of the marked improvements that come from using this ingredient. The reduced appearance of fine lines and wrinkles, improved elasticity, and a more even skin tone are just some of the benefits you'll reap.
It is important, though, to support your use of retinol with other products that help increase its effectiveness. Using a broad-spectrum sunscreen is always critical. Even the most effective, research-proven anti-aging ingredients like retinol won't work as you want them to if you're not diligent about daily sun protection.
It is also important to remember that even though vitamin A is a superstar antiaging ingredient for skin, one special ingredient is NEVER enough to take the best possible care of skin.
This fact is why all of our Paula's Choice formulas contain other vitally important skin care ingredients to help rejuvenate and sustain skin's smooth appearance such as antioxidants, skin-replenishing ingredients, and skin-restoring ingredients, of which retinol is one.
One more comment: When it comes to retinol products, packaging matters. Retinol is a potent yet delicate ingredient, and readily breaks down with routine exposure to light and air. For these reasons, avoid retinol products packaged in jars or clear containers.
References for this information:
Clinical Interventions in Aging, December 2006, pages 327-348
Archives of Dermatology, December 2006, pages 606-612
American Journal of Clinical Dermatology, 2008, pages 369-381
Cosmetic Science, July-August 2006, pages 261-277
Journal of Clinical and Aesthetic Dermatology, May 2012, pages 32-40
Molecules, February 2012, pages 2219–2230
About the Experts
Paula Begoun is the best-selling author of 20 books about skincare and makeup. She is known worldwide as The Cosmetics Cop and creator of Paula's Choice Skincare. Paula's expertise has led to hundreds of appearances on national and international radio, print, and television including:



The Paula's Choice Research Team is dedicated to busting beauty myths and providing expert advice that solves your skincare frustrations so you can have the best skin of your life!