How to Take Your Anti-Aging Skincare Routine to the Next Level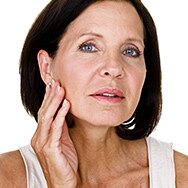 If you've got the basics down for your anti-aging skincare routine, you might be wondering what can you do to rev up the results? We're glad you asked…
Swap in an Advanced Exfoliant
A good skincare routine for aging skin should already include a daily leave-on AHA or BHA exfoliant, but if you want to see even more dramatic results, consider ramping up to a higher strength you'd apply a few nights per week. Stubborn concerns like wrinkles and dull, rough skin respond wonderfully to high-strength exfoliation, leaving skin looking even younger and firmer.
Try our RESIST Advanced Smoothing Treatment with 10% AHA, which has a milky-serum texture that's perfect for all skin types showing signs of sun damage, deep wrinkles, dehydration, and dullness. You can apply this instead of your usual leave-on exfoliant.
Add an Anti-Aging Booster
Our boosters focus on pivotal, high-performance ingredients to take your resuls from your skincare routine to the next level. Each has a lightweight texture that mixes easily with your moisturizer or other targeted solutions you may be using—or you can simply apply it by itself and follow with the rest of your routine.
Our boosters include:
C15 Super Booster brightens dull skin and diminish the appearance of red or brown marks, while boosting the feel of firmness.
C25 Super Booster spot-treats stubborn red or brown marks and smooths the appearance of deep wrinkles and rough texture.
1% Retinol Booster targets deep wrinkles, pesky pores, and combat multiple signs of aging skin, from texture to skin tone issues.
Hyaluronic Acid Booster visibly plumps dry, dehydrated skin, calms, and soften the appearance of fine lines.
Peptide Booster delivers eight highly targeted peptides that work to visibly firm skin and reinforce its natural resilience.
10% Niacinamide Booster helps minimize the appearance of enlarged pores and sun-damaged skin showing an uneven skin tone.
Moisture Renewal Oil Booster improves skin texture and adds hydration for a healthy-looking glow. This dry skin favorite helps lock in moisture so skin stays comfortably supple.
Use an Advanced Anti-Aging Skin Routine from the Get-Go
If you want the best of the best, switch to our RESIST Anti-Aging Advanced Kit for Normal to Dry Skin or Normal to Oily Skin. These are our best skincare routines for anti-aging, featuring comprehensive, state-of-the-art products that work to improve the appearance of wrinkles, pore size, skin texture, and hydration for an even-toned, smoother, and firmer-feeling complexion that will have everyone wondering what you're doing to look so great.
For more information on how to incorporate Paula's Choice Skincare products into your personal routine, you can schedule a free one-on-one consultation with one of our Client Services representatives here.
References for this information:
Journal of Dermatological Science, June 2017, pages 238–248
Journal of Drugs in Dermatology, March 2015, pages 271–280
The Journal of Clinical and Aesthetic Dermatology, August 2014, pages 13–17
Journal of Clinical and Aesthetic Dermatology, October 2012, pages 20–23
About the Experts
Paula Begoun is the best-selling author of 20 books about skincare and makeup. She is known worldwide as The Cosmetics Cop and creator of Paula's Choice Skincare. Paula's expertise has led to hundreds of appearances on national and international radio, print, and television including:



The Paula's Choice Research Team is dedicated to busting beauty myths and providing expert advice that solves your skincare frustrations so you can have the best skin of your life!