How to Exfoliate Skin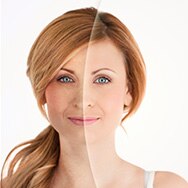 If you haven't been using an AHA (alpha hydroxy acid) or BHA (beta hydroxy acid) exfoliant, your skin is missing out on significant benefits. These non-abrasive, leave-on exfoliants work more effectively than scrubs and offer additional benefits, including:
minimizing the appearance of wrinkles
clarifying dull, uneven skin tone
smoothing rough, bumpy skin
unclogging pores
increasing hydration
Why Skin Exfoliation Is So Important
Over time, due to unprotected sun exposure and age, skin's ability to exfoliate, or shed the buildup of dead, skin slows down. The not-too-pretty effects can be mitigated simply by adding an AHA or BHA exfoliant to your routine. And for many people, the difference is visible overnight.
How to Exfoliate Face and Body (and Get the Most Out of It)
Apply your exfoliant after you cleanse and tone.
You can exfoliate around the eye area, but not the eyelid or directly under the eye (along the lower lash line).
You don't need to wait for your BHA or AHA to absorb or dry; you can apply any other product in your routine—moisturizer, serum, eye cream, or sunscreen—immediately afterward.
Experiment with different strength exfoliants to see which concentration gives you the best results.
Some people do well exfoliating with AHA or BHA twice a day, whereas others find that once a day or every other day is the perfect balance. Note how your skin responds, and adjust accordingly.
Exfoliating with AHA or BHA from the neck down has great benefits as well.
What Body and Face Exfoliator Should You Use?
AHA exfoliants are most helpful for dry skin with advanced signs of aging. AHA products smooth wrinkles and fine lines, help with rough, crepey texture, and will leave you with hydrated, supple skin and a healthy glow; research also shows them to be effective at minimizing the visible signs of sun damage.
BHA exfoliants are ideal if you're dealing with clogged pores, blackheads, blemishes, or enlarged pores, as well as signs of aging. BHA is preferred for those with temperamental skin because of its calming, soothing properties. We have products specifically formulated for easily aggravated skin, acne, as well as more general concerns. Our BHA exfoliants can reduce the appearance of small white bumps, and are even suitable for those with skin prone to milia and/or rosacea.
Most facial scrubs have rough, coarse textures, which can be harsh and abrasive, causing micro-tears in skin. The stiff bristles of many cleansing brushes have the same negative impact on skin's vulnerable surface. Gentle face scrubs and soft cleansing brushes are the exception, but even those are best used as an extra cleansing step, not as a replacement for a well-formulated AHA or BHA exfoliant. Scrubs simply don't work as deeply or effectively as AHA and BHA exfoliants, nor do they offer the same skin-transforming benefits.
References for this information:
Dermatology Research and Practice, February 2015, ePublication
Journal of the German Society of Dermatology, July 2012, pages 488–491
Clinical, Cosmetic, and Investigational Dermatology, November 2010, pages 135–142
Journal of the American Academy of Dermatology, April 2007, pages 651–663
Clinics in Dermatology, July 2001, pages 460–466
Archives of Dermatologic Research, July 1997, pages 404–409
About the Experts
Paula Begoun is the best-selling author of 20 books about skincare and makeup. She is known worldwide as The Cosmetics Cop and creator of Paula's Choice Skincare. Paula's expertise has led to hundreds of appearances on national and international radio, print, and television including:



The Paula's Choice Research Team is dedicated to busting beauty myths and providing expert advice that solves your skincare frustrations so you can have the best skin of your life!