How to Keep Your Neck & Chest Looking Young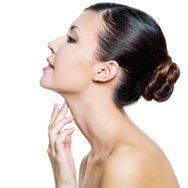 Signs of aging such as crepey skin, uneven skin tone, and sagging show up sooner on parts of the body that haven't been shielded from the sun. This is especially true for the neck and chest because we tend to neglect applying sunscreen to those areas.
The question many people ask is do they need a special décolletage (chest) or neck cream? The answer is absolutely not! Keep reading to learn what you can do to keep your neck and chest looking as young as possible for as long as possible.
Do You Need to Use a Chest Cream or Neck Cream?
The truth is that buying a separate product for these areas is unnecessary and more often than not a total waste of money. Surprisingly these products rarely contain ingredients that can help improve the signs of aging or they come in jars (which repeatedly exposes delicate antioxidants to light and air, decreasing their effectiveness), and appallingly they almost never contain sunscreen.
Perhaps the biggest reason such creams are unnecessary is that the well-formulated products you use for your face will work beautifully on your neck and chest, too. Skin anywhere on your body requires the same types of beneficial ingredients as your face—skin-replenishing ingredients, antioxidants, soothing agents, skin-restoring ingredients, and sunscreen during the day to delay the appearance of aging skin.
There's absolutely no research showing the neck or chest needs special ingredients.
Skin Care Steps for the Neck & Chest
Here's what you can do that will keep your neck and chest appearing younger and healthier.
Consistently use the exact same anti-aging skin care products you use for your face on your neck and chest too. The only time you ever need to use separate products for those area is if you're addressing different skin concerns such as acne or very dry skin.
Clothing often exposes the neck and chest to the sun, making these areas especially vulnerable. Always protect your exposed neck and chest with daily application of broad-spectrum sunscreen rated SPF 30 or greater. This is the single best step you can take to keep this area of your skin looking youthful and smooth for years to come. Moreover, if used as directed with other sun protection measures, wearing sunscreen decreases the risk of skin cancer.
If you notice patches of uneven skin tone, address it with a skin-brightening product—it can be the same one you use on your face.
Consider adding an anti-aging booster to your skin care routine. The best skin boosters are formulated with potent anti-aging ingredients for dramatic results. Each one has a beautiful lightweight texture. These can be applied directly to skin or mixed in with your moisturizer or serum.
Is There Help for Turkey Neck?
What's frustrating about the neck is that it tends to sag faster than other parts of the face. This is to some extent about skin care (or lack thereof), but it's also because the neck is affected by the pull of gravity sooner than other parts of your body and face.
As much as it pains us to say, there's a point of no return where age-related sagging can only be addressed with advanced procedures discussed with your physician—not skin care, no matter how tempting the claims are.
That doesn't mean you should ignore your neck, just the opposite—but you need to be realistic and stop hunting for a special product with miraculous claims that will never work. Help the skin on your neck by extending your entire skin care routine there too.
Learn more about anti-aging & wrinkles.
About the Experts
Paula Begoun is the best-selling author of 20 books about skincare and makeup. She is known worldwide as The Cosmetics Cop and creator of Paula's Choice Skincare. Paula's expertise has led to hundreds of appearances on national and international radio, print, and television including:



The Paula's Choice Research Team is dedicated to busting beauty myths and providing expert advice that solves your skincare frustrations so you can have the best skin of your life!