Retinol for Anti-Aging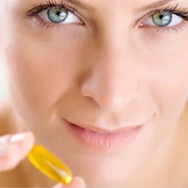 Research clearly shows that retinol, the technical name for vitamin A, has truly astounding anti-aging benefits for skin. To make sure you're getting the best of what this multitasking ingredient—and the 40 years of established research behind it—has to offer, here's what you need to know.
Retinol's Anti-Aging Benefits for Skin
Retinol products can help visibly diminish the look of fine lines and wrinkles, increase the appearance of firmness, improve uneven skin tone, smooth and refine the surface of skin, and help mitigate the effects of environmental stressors.
Even better, a retinol cream, serum, moisturizer, or targeted solution is easy to work into your daily skincare routine.
What You Need to Know Before Buying and Using Retinol
Make sure every product in your skincare routine is soothing and gentle. Look for mild cleansers, calming toners, well-formulated moisturizers, and serums loaded with antioxidants and skin-restoring ingredients to help your skin get maximum benefits from the retinol. Don't know where to start? Check out the Paula's Choice Skincare CALM Skincare Collections. Dry skin? Try pairing a retinol product with our Moisture Renewal Oil Booster; it's even gentle enough for skin prone to eczema.

All forms of retinol deteriorate when exposed to air and light, so make sure you only buy retinol products packaged in airtight, opaque containers. Avoid jar packaging!

If you're new to using retinol, start slowly. Mix it with your usual moisturizer or serum to see how your skin responds. And, depending on the concentration of retinol in your product, you can vary the frequency of use from daily to a few times per week.

Be sure to apply your retinol eye cream around your eyes to help with fine lines and crow's feet.

Always apply a broad-spectrum sunscreen rated SPF 30 or greater. If you aren't diligent about sun protection, even the most effective anti-aging ingredients won't be able to deliver the results you want. Unprotected sun exposure is simply bad for skin. Daily use of sunscreen as directed, along with other sun protection measures, decreases the risk of skin cancer and early skin aging.

Avoid retinol products that only give your skin retinol. As great as retinoids are for all skin types, everyone's skin needs more than just one brilliant ingredient. Think of it like your diet: If you only ate carrots, you'd soon become malnourished, even though the vitamin A they contain is good for you. Likewise, your skin needs a mix of beneficial ingredients to thrive.
References for this information:
Facial Plastic Surgery Clinics of North America, February 2013, pages 55–60
Archives of Dermatology, May 2007, pages 606–612
Clinical Interventions in Aging, 2006, pages 327–348
International Journal of Pharmaceutics, June 2002, pages 85-94
About the Experts
Paula Begoun is the best-selling author of 20 books about skincare and makeup. She is known worldwide as The Cosmetics Cop and creator of Paula's Choice Skincare. Paula's expertise has led to hundreds of appearances on national and international radio, print, and television including:



The Paula's Choice Research Team is dedicated to busting beauty myths and providing expert advice that solves your skincare frustrations so you can have the best skin of your life!