The Best Toners for Anti-Aging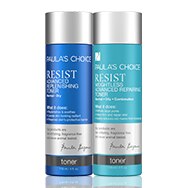 When it comes to anti-aging skin care products, face toners are among the unsung heroes. If you're unfamiliar with toners, they're liquid skin care products designed to replenish skin immediately after cleansing.
While powerhouse anti-wrinkle moisturizers, serums, and boosters get most of the of attention when it comes to anti-aging, well-formulated toners have an important role to play, too—laying the groundwork for a more youthful, radiant appearance.
Anti-Aging Toner Ingredients
Look for skin toners rich in antioxidants (such as genistein, resveratrol, and pumpkin seed extract), which help defend against the visible effects of pollution. Soothing ingredients are also vitally important to calm your skin because inflammation contributes to the visible signs of aging. Last but not least, look for a face toner enriched with ingredients that restore and replenish skin (niacinamide, glycerin, and hyaluronic acid to name a few) as these revive skin's suppleness, resilience, and radiance.
Why does skin need these ingredients immediately after cleansing? The answer is simple: No matter how gentle your cleanser is, you're still removing some beneficial components from skin as you wash your face. A well-formulated face toner serves to nourish skin instantly, giving back to skin what it needs to look and feel smoother, softer, and healthier.
Our Favorite Toners for Anti-Aging
If minimizing signs of aging is your primary concern, we offer two specialized Paula's Choice Skincare toners. Both formulas feature superstar anti-aging ingredients to target the visible signs of aging, fast. Your skin type* determines which one you should choose.
RESIST Advanced Replenishing Toner is best for those with normal to dry skin. Its milky, antioxidant-rich texture is packed with omega fatty acids, which serve as essential building blocks to create a smoother, younger-looking appearance.
RESIST Weightless Advanced Repairing Toner is a lightweight formula for those with combination to oily skin, who struggle with signs of aging, uneven skin tone, and post-breakout marks. Its niacinamide-powered formula fights wrinkles, improves rough texture and minimizes enlarged pores at the same time.
*Need help determining your skin type? Wash your face with a gentle cleanser and then wait about 15-30 minutes to see how your skin looks and feels.
If your skin feels noticeably dry and tight, you're on the dry end of the skin spectrum. If you start to notice oily shine diffused all over your complexion, you're on the oily side. If your T-zone looks oily but your cheeks and jaw area are moderately dry, you have combination skin. If you don't experience any oiliness or dryness, you're one of the lucky people with "normal skin" that adapts well to almost any type of texture.
What about sensitive skin? Our anti-aging toners are soothingly formulated to be gentle for those with sensitive skin, too. No matter what your skin type, our anti-aging toners have your skin's needs covered!
Learn more about anti-aging & wrinkle solutions.
References for this information:
International Journal of Pharmaceutics, March 2017, pages 158-162
Journal of Drugs in Dermatology, December 2013, pages 1389-1394
Journal of Food Science, June 2012, pages 653-657
International Journal of Pharmaceutics, November 2008, pages 36-44

About the Experts
Paula Begoun is the best-selling author of 20 books about skincare and makeup. She is known worldwide as The Cosmetics Cop and creator of Paula's Choice Skincare. Paula's expertise has led to hundreds of appearances on national and international radio, print, and television including:



The Paula's Choice Research Team is dedicated to busting beauty myths and providing expert advice that solves your skincare frustrations so you can have the best skin of your life!