What is a Serum?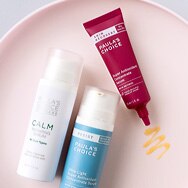 The information about what serums are and how they're formulated causes a lot of confusion, mainly because there's very little consistency in how different brands describe them. The easiest way for us to describe the benefits and power of an outstanding serum is to tell you how we define and formulate our serums.
Think of serums as you would a tablet or smart phone that has maximum power and speed but is exceptionally lightweight. The best serums follow that exact concept: They contain high concentrations of proven anti-aging ingredients, especially antioxidants, because antioxidants have the ability to interrupt environmental assault when applied generously to skin.
The other defining feature of serums is texture. Serums typically have a far lighter, thinner, fluid texture rather than the cream or lotion texture of most facial moisturizers. Despite a serum's nearly weightless application, superior serums are brimming with the most important ingredients for restoring skin.
At Paula's Choice Skincare, we also include hydrating ingredients in our serums, which skin also needs in abundance. Many of these hydrators work as skin-replenishing ingredients, and we round out each serum formula with a dose of skin-restoring ingredients, too.
This unique combination of ingredients makes serums a perfect addition to your skin care routine, complementing your routine with additional benefits for extra skin reinforcement and resilience, resulting in significantly younger-looking skin!
Wondering if you need a serum and a moisturizer? This article will walk you through how to add a serum to your skin care routine. You will find a selection of our Paula's Choice Skincare serums here.
Learn more about anti-aging & wrinkle solutions.
References for this information:
Indian Journal of Dermatology, May-June 2016, pages 279–287
Cosmetics, 2015, pages 259–276
Current Pharmaceutical Biotechnology, 2014, pages 173–181
Life Sciences, October 2014, pages 1–7
Phytotherapy Research, February 2014, pages 159–166
Evidence Based Complementary Alternative Medicine, 2013, article 827248
Clinical Dermatology, March-April 2009, pages 159–165
Journal of Cosmetic Dermatology, September 2007, pages 183–188
International Journal of Cosmetic Science, December 2006, pages 447–451
Journal of Investigative Dermatology, October 2005, pages 826–832
International Journal of Cosmetic Science, August 2005, pages 243–249
American Journal of Clinical Dermatology, 2003, pages 107–129
About the Experts
Paula Begoun is the best-selling author of 20 books about skincare and makeup. She is known worldwide as The Cosmetics Cop and creator of Paula's Choice Skincare. Paula's expertise has led to hundreds of appearances on national and international radio, print, and television including:



The Paula's Choice Research Team is dedicated to busting beauty myths and providing expert advice that solves your skincare frustrations so you can have the best skin of your life!