Boost Hydration for Better Skin this Winter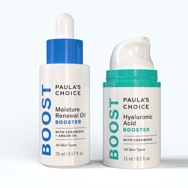 Winter Skin Concerns
Most of us have experienced cold-weather skin woes—that uncomfortably dry, flaky, reddened skin that can be as predictable as the change in seasons. What you may not realize is that moisture-depleting heated indoor air is as much to blame as those low temperatures and cold, dry air swirling outside. Regardless of the cause, however, the question remains: How do you give your skin a beauty boost that calms redness, eliminates weather-beaten dullness, and prevents moisture loss—without changing your entire skincare routine?
The easy answer is to outsmart winter by adding Moisture Renewal Oil Booster and/or Hyaluronic Acid Booster to your routine. These customer favorites reduce the appearance of rough-looking, extra-dry skin, strengthen skin so it's better able to withstand moisture-depleting forces, and are even gentle enough for those prone to eczema.
Don't Change Everything
Often you'll see recommendations to change out all of your skincare products in winter, switching to more emollient formulas. While that does work for some people, those with oily or combination skin can find rich products heavy and greasy-feeling; those with slightly dry skin can find them occlusive. So we recommend you keep the best core products for your skin type and concerns, and use boosters to seasonally customize your existing skincare routine.
Our skin-hydrating boosters smooth away dryness, calm redness, and impart a dewy, supple radiance. Best of all, they're perfect for sensitive, redness-prone skin—and gentle enough for skin prone to rosacea.
Hyaluronic acid has the remarkable ability to hold 1,000 times its weight in moisture, allowing skin to retain long-lasting, desperately needed hydration. It also delivers antioxidants and hydration-holders like ceramides and cholesterol—both of which are naturally present in young, smooth skin. Hyaluronic acid also has calming properties, and works for all skin types, even if you're prone to breakouts.
Moisture Renewal Oil Booster contains a proprietary mix of skin-nourishing plant oils, skin-restoring antioxidants, and essential skin-boosting components, including gamma-linolenic acid, oleic acid, palmitic acid, and eicosenoic acid. Your skin is always hungry for these indispensable ingredients, but even more so in winter, when cold, dry air saps its moisture reserves.
How to Use Skincare Boosters
If you have dry, dehydrated skin, you may want to use both boosters morning and night. If you have normal to oily skin or combination skin, you may find the Hyaluronic Acid Booster works fine on its own, or that you prefer to use both products, but just once per day—or as spot treatments over dry, dull areas. There's no exact rule to follow—just note how your skin responds, and adjust as needed. Regardless of your skin type, these two multi-benefit products will help boost hydration to get you through the cold, dry months with an unbelievably smooth, energized, radiant complexion.
References for this information:
Indian Journal of Dermatology, May-June 2016, pages 279–287
Advances in Dermatology and Allergology, 2014, pages 351–355
Advances in Food and Nutrition Research, Volume 72, 2014, pages 137–176
The Journal of Clinical and Aesthetic Dermatology, March 2014, pages 18–26
Journal of Cosmetic Dermatology, March 2013, pages 3–11
Dermato-Endocrinology, July 2012, pages 253–248
Journal of Cosmetic Science, July-August 2011, pages 361–370
About the Experts
Paula Begoun is the best-selling author of 20 books about skincare and makeup. She is known worldwide as The Cosmetics Cop and creator of Paula's Choice Skincare. Paula's expertise has led to hundreds of appearances on national and international radio, print, and television including:



The Paula's Choice Research Team is dedicated to busting beauty myths and providing expert advice that solves your skincare frustrations so you can have the best skin of your life!