Lip Injections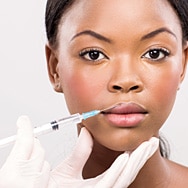 Cosmetics such as lipsticks, lip glosses, and lip liners can do a lot to mimic the appearance of full lips, but each has limitations. If you want a plumper pout longer-term, getting an injection of a lip filler can be an effective way to achieve the look you've always wanted. Before you book that appointment, though, you need to know what to expect.
How Lip Injections Work
The most common type of lip fillers used in lip injection procedures are hyaluronic acid fillers. Hyaluronic acid is a thick, gel-like substance that occurs naturally in skin. It works to support skin's youthful appearance by helping attract and retain moisture. The result is plumper skin and, when injected, fuller lips.
Injections themselves are straightforward; your doctor will use a topical numbing agent or use a needle to inject a numbing agent into the lips, followed by controlled injection of the filler. There will also be some massaging of the lip area to make sure the filler is evenly distributed. Minor bruising can occur, but usually goes away within a couple of days.
Since hyaluronic acid is the main component of these fillers, the chance of a negative reaction is low. Research shows that most instances where someone had an undesirable reaction were the result of a doctor not following proper protocol. This is a HUGE reason why it's critical to put time into researching the cosmetic surgeon or dermatologist who is going to perform your injection procedure. You don't want to go to someone who just started doing this, or whose primary practice involves a completely different specialty.
Lip Filler Costs
As with any cosmetic corrective procedure, cost is a major consideration. Depending on the filler used, whether you have a topical or injected numbing agent, which doctor you see, and where you live, the price for lip injections can range from $500 to $2,000.
Results generally last between three and six months (though there are some newer fillers claiming to last up to a year), with lips gradually going back to their original size rather than suddenly deflating like a balloon. Understandably, the longer-lasting fillers cost more.
What If You Don't Like the Results?
Most people who get lip injections are happy with their results; however, those who don't like what they see have the option of returning their lips to normal quickly via an enzyme called hyaluronidase. Like hyaluronic acid, it occurs naturally in the body, and works to break down hyaluronic acid (which is why fillers aren't permanent). Injecting a concentrated amount of hyaluronidase into the lips speeds up this process, with results sometimes visible within hours.
Keep in mind that fuller lips might mean making some adjustments to the lip colors you wear. Depending on the size change of your lips (and please think twice before going too big), you may need to shop for softer, more subdued colors instead of bright or bold shades.
If you use lip liner, you'll need extra time to get used to your lip's new contours. Lip gloss may need to be toned down, too. Experiment to see which combination of colors and finishes best enhances your beautiful lips!
References for this information:
Dermatologic Surgery, March 2017, pages 405–406
Journal of Cosmetic and Laser Therapy, October 2016, pages 54–58
Clinics in Plastic Surgery, July 2016, pages 489–496
Nonsurgical Lip and Eye Rejuvenation Techniques, Springer, 2016, pages 15–23
Clinical, Cosmetic, and Investigational Dermatology, April 2015, pages 205–214

Do you want to see more articles like this?
Get exclusive beauty advice delivered twice a month. Unsubscribe at any time.
About the Experts
Paula Begoun is the best-selling author of 20 books about skincare and makeup. She is known worldwide as The Cosmetics Cop and creator of Paula's Choice Skincare. Paula's expertise has led to hundreds of appearances on national and international radio, print, and television including:



The Paula's Choice Research Team is dedicated to busting beauty myths and providing expert advice that solves your skincare frustrations so you can have the best skin of your life!