Normal Skin and How to Care For It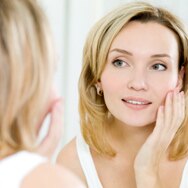 Most skin care advice revolves around attempting to fix, minimize, or control whatever skin type or skin concern you're struggling with. But what if you're one of those lucky people who have truly normal skin, meaning no apparent skin concerns or problematic skin type to address?
What is Normal Skin?
The best way to think about your normal skin is that it ends up being a subtle matter of degree, preferences and expectations. It also always depends on the skin care products you're currently using. In other words, even those with seemingly flawless skin still can feel a bit of dryness or a bit of oiliness or see signs of combination skin with occasional clogged pores. Think about it as mostly normal skin plus a little bit of other minor, barely detectable issues.
If you identify with either of those concerns no matter how minor, that will point you in the direction of what kind of normal skin products you should consider using. For the little bit of occasional dryness you experience, consider products aimed at normal to dry skin. For the little bit of oiliness of clogged pores you experience, choose products labeled as being for normal to oily or combination skin.
You can also make decisions based on your personal preference. You may like somewhat more enriched or creamy-feeling products while others with normal skin may prefer weightless fluid-textured products. Or you may want a lightweight daytime moisturizer but are fine using a richer cream at night. When skin is normal, texture preference is more about options than necessity.
Mostly what you want to avoid are products that will cause problems, creating a skin type you don't want. If you're using products that contain skin-aggravating ingredients or you're using abrasive scrubs or stiff-bristled cleansing brushes, you will be damaging your skin. This throws your naturally normal complexion into a state of disorder you definitely want to avoid.
Skin Care for Normal Skin
In essence, taking care of normal skin requires addressing and getting in front of the skin problems you don't currently have;on your face. Having normal skin doesn't mean you don't or won't have skin care concerns that you need to take care of now with a great daily skin care routine.
You may not see signs of sun damage from not wearing sunscreen or other skin care problems due to seasonal weather changes, environmental assault, or mid-life changes but they are after you nonetheless. That means a healthy skin care routine is critical for you to start giving to your skin now. As the saying goes, "An ounce of prevention…"
The best possible way to care for normal skin is to follow the basics every skin type needs, including daily use of a gentle, effective cleanser, toner loaded with skin-replenishing ingredients, a non-irritating hydrating AHA or BHA exfoliant, sunscreen with SPF 30 or greater that also includes antioxidants, and a beautifully formulated moisturizer with skin-restoring ingredients and skin-soothing ingredients.
It can also help to add an antioxidant serum to your skin care routine as even normal skin still needs a robust amount of antioxidants to nourish and help keep it defended against the environment. Our Hyaluronic Acid Booster can be a plus to shore up hydration and our 1% Retinol Booster can help maintain the contour of your normal skin.
Your skin care routine can look something like the steps below. If your normal skin type leans slightly or occasionally dry, choose our SKIN RECOVERY products; if it leans slightly oily or combination, choose our SKIN BALANCING products.
As mentioned above, those with normal skin can also choose based on your texture preference. If you prefer slightly more creamy, richer-textured products our SKIN RECOVERY products will be perfect for you. If you prefer lighter weight, more fluid textures you barely feel on your skin, then SKIN BALANCING will be ideal—or you can use a mix of both.
Now that you have a good idea of what normal skin really is, how to identify it, and—most important—how to care for it, you'll be able to make the best decisions about which products to buy to keep your skin in top shape. With the products recommended above, you'll be giving your skin what it needs to look younger and stay normal for as long as possible.
Even when your skin is truly normal, a brilliant skin care routine is still fundamental to keeping your skin staying the way it is for as long as possible. Regardless of how perfect your skin is now, getting older, visible effects from cumulative sun damage from unprotected sun exposure, environmental damage, and mid-life changes to your skin will eventually show up and take a toll. We want you to keep your skin healthy, energized, vibrant, and enlivened to ward off the signs of aging and other problems as the years roll by.
About the Experts
Paula Begoun is the best-selling author of 20 books about skincare and makeup. She is known worldwide as The Cosmetics Cop and creator of Paula's Choice Skincare. Paula's expertise has led to hundreds of appearances on national and international radio, print, and television including:



The Paula's Choice Research Team is dedicated to busting beauty myths and providing expert advice that solves your skincare frustrations so you can have the best skin of your life!