Paula's Skincare Routine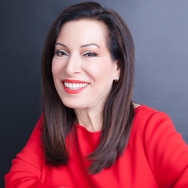 I've formulated over 100 products since Paula's Choice Skincare launched in 1995. I'm very proud of the formulations I've created, but of course I can't use all of them as not every product is right for my skin type.
I also don't use every product that is right for my skin type! My team and I have formulated many options for my skin type but there's no need for me to use every single one to get the results I want. I have my favorites just as I hope you'll find yours, based on personal preference and what you find works best for YOU.
I'm sharing my current skincare routine that I've chosen to improve my oily to combination, blemish-prone skin and concerns of congested, enlarged pores, sun damage, brown spots, dehydration, and aging skin around my eyes. Yes, that's a lot of issues but many women struggle with more than one skin concern, just as I do. Thankfully, I know what my products are capable of, and I love the results!
Paula's AM Skincare Routine
Other than using my cleanser first, the products I follow with are applied from the lightest most liquid texture to the more lotion or creamy texture.
In the morning, I use , followed by , which has a watery consistency that works perfectly for my skin type.
Next, I apply the watery but concentrated, to improve my congested pores, dehydration, and uneven skin tone. I don't wait for my toner to dry before applying this booster.
After that, I apply a thin layer of , which has a thicker but still fluid consistency. This step defends my skin from the visible effects of pollution and environmental damage—and works well under my makeup.
On hands, chest, and the brown spots on my face, I apply my , which has a thicker gel-like texture.
Next up is my eye area, where I apply my longtime favorite, . I like its texture for use during the day.
Last, but not least: my moisturizer with sunscreen, which is . Everyone who knows me knows I would NEVER leave the house without wearing a sunscreen with SPF 30 on any part of my body and face that might see daylight, because spending time in the sun increases your risk of skin cancer and early signs of skin aging caused by sun.
Paula's PM Skincare Routine
In the evening, I start with our , which is perfect for removing my tenacious waterproof eyeliner and long-wearing lipstick.
I follow that with , applied with a soft washcloth to be sure all my foundation is removed.
Next, I smooth on the fluid , which exquisitely improves my skin texture, unclogs pores, minimizes bumps and breakouts, and increases hydration.
During those times I'm dealing with stubborn bumps and clogged pores, I reach for my secret weapon, , a leave-on, time-released exfoliant that works wonders on stubborn imperfections—often overnight!
Once or twice a week, I apply the fluid to significantly improve wrinkles and other visible signs of aging. Retinol is one of my favorite skincare heroes, but I don't apply it daily due to my own sensitivity to vitamin A.
Instead of the Moisture Boost moisturizer used in my morning routine, at night I use my . This very thick product is dabbed on; it's not meant to be massaged into skin, but rather left to slowly absorb while you sleep. I love the results the next morning.
Last, I apply my very thick, lusciously emollient , slathered on my lips and any stubborn dry spots, such as elbows and around the cuticles. I haven't had to deal with dry, chapped lips since adding this step to my nightly routine.
If at First You Don't Succeed…
It took some experimenting for me to figure out what worked best for my temperamental skin. If you're in the same boat and wondering what to use, don't be afraid to try a variety of products and frequencies of application to see how your skin responds, just as I did. Our Client Services team is ready and willing to help you put together your own routine-one that lets you get and keep the best skin of your life.
About the Experts
Paula Begoun is the best-selling author of 20 books about skincare and makeup. She is known worldwide as The Cosmetics Cop and creator of Paula's Choice Skincare. Paula's expertise has led to hundreds of appearances on national and international radio, print, and television including:



The Paula's Choice Research Team is dedicated to busting beauty myths and providing expert advice that solves your skincare frustrations so you can have the best skin of your life!