Are Your Hands and Arms Making You Look Older?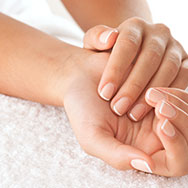 Fighting the signs of aging is an ongoing effort for many women. From skincare to makeup products, cosmetic procedures, dyeing gray roots, and maintaining a beautiful smile, it can all add up to having a more youthful, vibrant appearance.
Despite this focused attention to delay or conceal signs of aging from the neck up, many women neglect the two most visible and age-sensitive areas on their bodies, namely their hands and arms.
Limiting your age-defying energy to your face is a common oversight we urge you to stop overlooking. Don't let your hands and arms add unwanted years to your appearance. They deserve the same attention you give your face, and with just a few tweaks, it's an easy addition to your daily skincare routine.
How to Have Younger-Looking Hands and Arms
The reason it's so easy to start having younger-looking skin on your hands and arms is because the exact same types of products and ingredients that work for your face to renew and improve skin tone and discolorations work beautifully on your hands and arms, too!
Although there are some differences between the skin on your face and the skin on your body, there's no research showing those areas require different ingredients or formulas to keep skin looking and feeling younger. What contributes to signs of aging are the same for your hands and arms as they are for your face.
The basic concepts of skincare we talk about all the time (gentle cleansing, non-abrasive exfoliation, sun protection, using products loaded with antioxidants and skin-restoring ingredients, along with a product containing skin-lightening or skin-brightening ingredients) also work perfectly for your hands and arms.
Essential Steps for Beautiful Hands & Arms
To see improvement and keep your hands and arms looking healthy and young, you must be as consistent in taking care of those areas as you are with your facial skincare routine. Following these steps is the key to unlocking the youthful potential of your hands and arms and keeping it that way—not to mention avoiding the contrast of having a youthful-looking face and "old" hands and arms!
Avoid washing your hands with bar soap or drying cleansers. As much as possible only wash your hands with a gentle water soluble cleanser or moisturizing body wash. Being gentle with your hands is critical to keeping the surface strong, supple, and smooth.
Non-abrasive, gentle exfoliation is important for your hands and arms, too. Removing built-up dead surface skin will reveal the radiant, healthy skin hiding beneath. Paula's trick is to take the cotton pad she uses on her face with our leave-on SKIN PERFECTING 2% BHA Liquid Exfoliant and apply the remaining amount to her hands and arms.This gentle but extremely effective exfoliant will help you shed dead skin cells to visibly improve rough skin, it's even suitable for those with Keratosis Pilaris (KP)-prone skin.
Twice daily or as needed, apply a rich, emollient skin-protecting moisturizer that replenishes vital lipids, antioxidants, and hydrating ingredients to help maintain your skin's natural defenses against environmental damage. Paula's Choice CLINICAL Ultra-Rich Soothing Body Butter will immediately alleviate any dryness or tight feeling.
Every morning after you've applied your cleanser, exfoliant, and moisturizer, you must conscientiously and without exception liberally apply a water-resistant sunscreen with SPF 30 or greater and reapply it as needed throughout the day. Just like for your face, this is the most crucial step to fighting early signs of aging. This habit will also help reduce the risk of skin cancer in the short term and the long term.
For certain, a major aspect of older-looking hands and arms are unwanted brown or other dark spots. Thankfully these can be greatly diminished by using a skin-lightening product containing 2% hydroquinone. Another option is to use a skin brightening moisturizer that also contains specialized ingredients for creating a more even skin tone. Applying these products to your hands and arms twice a day along with meticulous use of a sunscreen will produce astounding results (just ask Paula to show you her hands and you'll be a believer, too!).
Hands Do Take a Bit More Effort
How often we wash our hands adds a complication to taking care of your hands during daylight hours. As mentioned above, protecting skin from the sun with a water-resistant sunscreen rated SPF 30 or greater is vital, but every time you wash your hands, even if you are using a water-resistant sunscreen, you wash off some of the sunscreen. That's why reapplying sunscreen after you wash your hands is critical, even if it's a pain. If you aren't diligent about reapplying sunscreen as often as possible after hand-washing, your hands will appear much older than they really are, and all the other skincare steps won't save them from the inevitable.
Treatment Options Beyond Skincare
When it comes to fighting signs of aging, there's only so much that a good skincare routine can do to reverse visible damage. After a certain point (and to get truly impressive results), you may want to consider having cosmetic corrective procedures performed on your hands, the same types of procedures doctors commonly perform on the face. At Paula's Choice we believe it's important to balance out what all the options are for having the best skin of your life.
No matter which methods you use to make your hands and arms look younger, it all starts with great skincare, especially sun protection you use consistently, day in and day out. As long as you're willing to commit to this, you may even be able to skip any further, pricy intervention down the road!
About the Experts
Paula Begoun is the best-selling author of 20 books about skincare and makeup. She is known worldwide as The Cosmetics Cop and creator of Paula's Choice Skincare. Paula's expertise has led to hundreds of appearances on national and international radio, print, and television including:



The Paula's Choice Research Team is dedicated to busting beauty myths and providing expert advice that solves your skincare frustrations so you can have the best skin of your life!