How to Get Soft Feet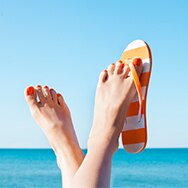 Our feet are workhorses—they get us where we need to go—but all too often they're an afterthought in our skin care routines. Neglecting foot care can lead to cracked heels and rough soles, but, with a few simple steps, you can have soft, sandal-ready feet all year long.
Exfoliate Feet to Slough Away Rough, Dead Skin
Thick, rough heels and rough skin on the sides of your big toe are the result of built-up dead layers of skin. The best way to take care of the problem is to slough off that thickened, old skin to reveal the soft, new layer underneath.
Most people think the best way to do that is to physically scrub the skin with a harsh or abrasive ingredient like salt or pumice. While foot scrubs do have their place (the skin on the feet is generally more resilient than that on the face), you're not going to get the same results that you would if you used a powerful, potent leave-on exfoliant. AHA and BHA exfoliants go deeper than surface scrubs to help skin remove the dead layers more efficiently, similar to how skin naturally sheds.
Best Ways to Moisturize Feet
Once you've exfoliated, it's time to moisturize. There's no shortage of foot creams on the market, all claiming to give you the baby-soft feet of your dreams.
The problem is that many of them are loaded with potentially sensitizing ingredients. Sure, peppermint, lavender, and orange oils will make your feet smell better, but they're not doing your skin any favors. Aggravated skin can become dry skin, and that's the last thing you want if you're already seeing parched, cracked skin on your feet. Again, the skin on your feet is a bit tougher than skin on other areas of the body, but you still need to be gentle.
When choosing a foot lotion, select a fragrance-free, creamy formula that treats those toes to several emollients. Look for a foot cream rich in plant butters, such as shea butter, mango seed butter, and jojoba butter, to smooth and soften hardened heels.
Have especially rough feet? Treat them with a dose of our Moisture Renewal Oil Booster or our LIP & BODY Treatment Balm, applied over a thin layer of our RESIST BHA 9, a specialized exfoliant that can work wonders overnight.
To get overnight improvement without staining your sheets, after applying moisturizer on your feet, put on a pair of cotton socks before you get into bed. Along with protecting your bed linens, the socks will help "lock in" the moisture, leaving your feet supple and smooth when you get up the next morning.
Follow these steps, and you'll have softer feet in no time. Even if you don't show them off in a pair of sandals, you will feel the difference.
References for this information:
Dermatological Nursing, 2016, pages 46–49
Dermatology Research and Practice, February 2015, ePublication
The Journal of the American Podiatric Medical Association, July 1998, pages 332–336

About the Experts
Paula Begoun is the best-selling author of 20 books about skincare and makeup. She is known worldwide as The Cosmetics Cop and creator of Paula's Choice Skincare. Paula's expertise has led to hundreds of appearances on national and international radio, print, and television including:



The Paula's Choice Research Team is dedicated to busting beauty myths and providing expert advice that solves your skincare frustrations so you can have the best skin of your life!