The Best Moisturizers for Dry Skin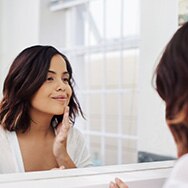 If your skin falls into the category of dry to very dry, it's likely that without the help of a moisturizer, it feels tight and uncomfortable. While moisturizing is the best way to help renew dry skin, not just any moisturizer fits the bill. Here's a look at some of the best, loaded with ingredients to help restore parched skin.
Dry Skin Relief
Paula's Choice Skincare knows from years of in-depth research that dry skin of any age needs these key elements—emollients, antioxidants, skin-restoring and skin-replenishing ingredients—to soften, restore hydration, and prevent moisture loss. All our moisturizers are created with these beneficial ingredients in mind, but here are the ones designed specifically to address the concerns of dry skin:
Intensive Solutions for Very Dry Skin
If you have very dry skin—whether because it's your skin type or the result of a drier climate or a change in the weather—that's when it's time to call in the big guns. These are our richest moisturizers, designed to soothe super-dry, flaky skin:
CLINICAL Ultra-Rich Moisturizer – A thick, luxurious cream packed with nourishing plant oils and emollients to rejuvenate even the most arid skin without feeling greasy.
RESIST Intensive Repair Cream – This concentrated moisturizing cream features a rich, hydrating texture alongside powerhouse anti-aging benefits thanks to its mix of retinol, peptides, and antioxidants.
Learn more about moisturizers.
References for this information:
International Journal of Molecular Medicine, July 2016, pages 16–22
Journal of the American Academy of Dermatology, May 2015, issue 5, page 28; and November 2012, issue 5, pages 1013–1024
Aging Research Reviews, January 2015, pages 8–21
British Journal of Dermatology, March 2010, pages 647–654
About the Experts
Paula Begoun is the best-selling author of 20 books about skincare and makeup. She is known worldwide as The Cosmetics Cop and creator of Paula's Choice Skincare. Paula's expertise has led to hundreds of appearances on national and international radio, print, and television including:



The Paula's Choice Research Team is dedicated to busting beauty myths and providing expert advice that solves your skincare frustrations so you can have the best skin of your life!