How AHA Exfoliants Work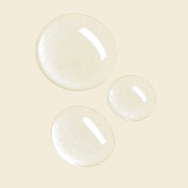 Extensive research has made it clear that daily exfoliation is essential for smooth, even-toned, hydrated skin—and a leave-on AHA product is among the best ways to exfoliate.
Leave-on exfoliants gently and quickly remove built-up layers of dead surface skin to reveal the softer, younger-looking complexion hiding beneath. But that's just the beginning; our AHA products also benefit skin with hydrating and anti-aging ingredients.
What Is an AHA?
AHA stands for alpha hydroxy acid— but don't let the word "acid" scare you: AHA ingredients are more gentle on your skin than most scrubs or cleansing brushes could ever be.
There are several skin-exfoliating AHAs, but the two most effective, common, and well-researched are glycolic acid and lactic acid. Other AHAs— malic acid, citric acid, and tartaric acid— also have benefits, but research on them is limited in comparison.
How AHA Exfoliants Work on Skin
When we're young, our skin naturally sheds built-up layers of dead cells at a rapid rate. But, as the years pass, several factors slow this process, bringing it almost to a halt. Culprits like unprotected sun exposure, dry skin, oily skin, and other skin problems can make skin dull, dehydrated, and older-looking. The glow goes, and dullness grows.
A leave-on AHA exfoliant works on the uppermost layers of skin's surface, loosening the bonds between dead surface layers and the radiant skin beneath. And, while AHAs have benefits for all skin types—diminishing the look of lines and wrinkles, improving skin's firmness, texture, and tone—their standout hydrating properties and ability to improve visible signs of sun damage make them ideal for normal to dry skin with advanced signs of aging.
It's important to note that formulary concerns are crucial for a product to be both gentle and effective. Research has shown that AHA exfoliants containing glycolic acid or lactic acid in concentrations between 5% and 10% and with a pH between 3 and 4 are ideal for optimal, youth-reviving, non-irritating exfoliation.
How to Use an AHA Exfoliant
It often takes some experimenting to see which AHA works best for your skin. Some people can use higher concentrations (such as 10%) without a problem, while others find that lower concentrations (such as 5%)—or alternating the use of higher and lower strengths—is the ideal solution.
But whichever exfoliant you choose, it should be applied after cleansing and toning. The other products in your routine, like serums, boosters, and moisturizers, go on after your exfoliant in order from thinnest to thickest texture. (Don't forget to finish with sunscreen during the day.)
AHA Exfoliant Tips for Best Results
You don't need to wait between steps for each product to absorb. The AHA will work even if you apply another product immediately before or after.
It's fine to apply an exfoliant to your undereye area, up to the edge of the orbital bone.
Although daily exfoliation is optimal for many people, you might find that exfoliating every other day works best for you. Again, it takes some experimentation.
Don't apply an AHA body lotion to freshly shaved legs. Shaving is a form of exfoliation, so no need to double up on those days.
References for this information:
Journal of Clinical and Aesthetic Dermatology, October 2015, pages 21–26
BioMed Research International, 2015, volume 2015
Dermatology Research and Practice, February 2015, volume 2015
Clinical Cosmetic Investigative Dermatology, December 2014, pages 9–17, and November 2010, pages 135–142
Archive of Dermatological Research, June 1997, pages 404–409
About the Experts
Paula Begoun is the best-selling author of 20 books about skincare and makeup. She is known worldwide as The Cosmetics Cop and creator of Paula's Choice Skincare. Paula's expertise has led to hundreds of appearances on national and international radio, print, and television including:



The Paula's Choice Research Team is dedicated to busting beauty myths and providing expert advice that solves your skincare frustrations so you can have the best skin of your life!