How to Care for Very Dry Skin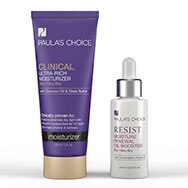 Do you struggle with perpetually flaky, dry, rough skin, no matter how much moisturizer you slather on? Caring for extremely dry skin goes beyond just lotions and creams. With a better understanding of what contributes to dryness, you can make meaningful adjustments to your skin care routine for softer, smoother, perfectly hydrated skin.
Dry Skin Causes
Dry skin occurs when it can no longer retain its natural moisturizing factors or effectively hold on to moisturizing ingredients—in other words, it loses the ability to replenish itself. The culprits include over-cleansing (especially with bar soap), harsh ingredients, abrasive scrubs, cumulative unprotected sun exposure (daily SPF is a must), and many common elements in the air we're exposed to on a daily basis.
That's why you can slather yourself in creams all day long, but your skin reverts back to its rough, uncomfortable, tight feeling. If you're not addressing the root of the problem and using the right skin care products, you don't stand a chance of alleviating dry skin. Here's an action plan to get dry skin back on the right track.
Replenishing Solutions for Very Dry Skin
Winning the battle against dry, aggravated skin begins with selecting a good range of dry skin products to nourish and calm. You can start the ball rolling with a gentle but effective cleanser that leaves skin feeling soft and clean, never dry or tight. Ingredients to look for include nourishing, non-fragrant plant oils and extremely mild, easy-to-rinse cleansing agents.
Important advice: Avoid bar soaps and scrubs. These skin-aggravating products hurt the skin's surface, reducing its ability to hold on to moisture.
After cleansing, recharge your skin with a toner (yes, even dry skin can benefit from a toner) loaded with superior hydrating and skin-replenishing ingredients. Adding these rejuvenating substances to very dry skin gives it exactly what it needs to start regaining moisture and safeguarding it from future moisture loss.
The next step is to apply a moisturizing leave-on AHA (alpha hydroxy acid) exfoliant at a strength of 5%. This gentle exfoliation can pave the way for your other products to further enrich very dry skin with the lasting moisture it needs to improve.
After applying your leave-on exfoliant, you can apply an antioxidant-rich, non-fragrant oil blend all over your face, or strategically to dry skin patches. This small step can make a world of difference in replenishing hydration and reviving very dry skin to a luminous, radiant glow.
The final step at night is to give skin the ultimate in moisture and enriched skin-restoring ingredients. Standard basic moisturizers and creams just won't do it for this problem skin type; rather, it needs high-powered blends of essential lipids, ceramides, plant butters, and calming agents. For heavy-duty hydration with a luxurious feel, try a dry skin treatment designed for sensitive skin. Your skin will be immediately comforted and cushioned from the environmental assault around you (such as low humidity heated air), locking the good stuff in and keeping the bad out.
And, of course, during the day, your moisturizer should contain sunscreen rated SPF 30 or greater. Nothing is more important for skin than protecting it from daily UV light exposure (even on a cloudy day); unprotected UV exposure limits skin's ability to hold moisture in and replenish the vital, healthy substances it needs.
References for this information:
British Journal of Nursing, January 2013, pages 26-30
The Journal of Clinical and Aesthetic Dermatology, June 2011, pages 45-55
Clinical, Cosmetic, and Investigational Dermatology, November 2010, pages 135-142
Skin Pharmacology and Physiology, Volume 21, 2008, pages 75-80
Journal of the German Society of Dermatology, October 2005, pages 768-774
Journal of Investigative Dermatology, June 2005, pages 1,099-1,110
About the Experts
Paula Begoun is the best-selling author of 20 books about skincare and makeup. She is known worldwide as The Cosmetics Cop and creator of Paula's Choice Skincare. Paula's expertise has led to hundreds of appearances on national and international radio, print, and television including:



The Paula's Choice Research Team is dedicated to busting beauty myths and providing expert advice that solves your skincare frustrations so you can have the best skin of your life!